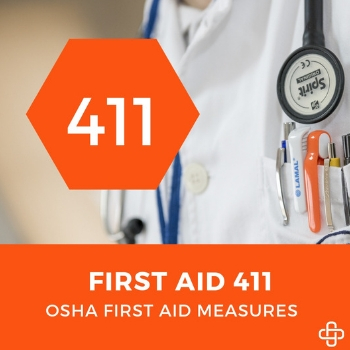 Nobody likes them, but sometimes they happen…injuries and illnesses that is!  But does every injury and illness require formal medical treatment, resulting in a recordable outcome?
Not if you know your OSHA First Aid Treatments.
What is First Aid?
First aid is medical attention that is typically administered immediately after an injury or illness occurs. It usually consists of short-term treatment, such as cleaning minor cuts, applying bandages, and using non-prescription medicine.
The overall goals of first aid are:
Stabilize the injured or ill worker.
Prevent the worker's condition from worsening.
Ensure that the worker receives needed medical care.
Many work-related injuries such as sprains or strains, lacerations and even heat-related illness can be effectively treated with OSHA First Aid Treatment.
OSHA First Aid Treatment includes:
Nonprescription medication at nonprescription strength, e.g. Motrin.
Tetanus immunizations
Cleaning, flushing, soaking surfaces wounds
Wound coverings, butterfly bandages, steri-strips
Hot or cold therapy
Non-rigid means of support
Temporary immobilization device used to transport accident victims
Drilling fingernail or toenail, draining fluid from blister
Eye patches
Removing foreign bodies from eye with only irrigation or cotton swab
Removing splint/foreign material from areas other than eye by irrigation, tweezers, cotton swabs, or simple means
Finger guards
Massages
Drinking fluids to relieve heat stress
Effectiveness of First Aid Measures
 Ever wonder just how effective first aid measures can be?  Of all of the injuries and illnesses Axiom Medical manages, over 65% of our cases are managed in-house with first aid measures.  Meaning, the employee receives immediate relief of their injury or illness then advances through the stages of recovery without requiring a clinic visit.
How does it work?
Once the case is reported to Axiom, the employee is able to speak with an OSHA Trained Nurse Case Manager who will assess their injury or illness, review their personal medical history, then develop an agreed treatment plan appropriate for their condition.
The key ingredient to its effectiveness lies in the follow-up!
Axiom Nurse Case Managers will continue to closely monitor the employee throughout their recovery to ensure compliance with the implemented measures and may adjust the treatment plan, based on the employee's response to the established treatment plan.
Want to Avoid OSHA Recordable Outcomes the Easy Way?
Axiom Medical understands the importance of doing right by your employees, which means providing them with immediate relief in their time of need following an injury or illness.  Why subject an injured or ill worker to extended wait times at a clinic or delay treatment, when it could be as easy as one phone call? 
From pre-hire to post-separation, Axiom sees employee occupational health as a journey you shouldn't have to travel alone!
Give us a call at +1 (877) 502-9466 or fill out our contact form to find out just how easy an effective incident case management program can be!

Holly is an ER nurse by trade, but loves content marketing.  She was born outside the box and believes everything is better with "sprinkles and sparkles".  She is passionate about impacting lives and uses marketing as her platform for sharing practical solutions to address real life occupational health challenges.
Find out more about our Injury Case Management services or our Occupational Health Programs.