OCCUPATIONAL HEALTH MANAGEMENT
Axiom Medical offers comprehensive occupational health services for employees and population health management. From pre-employment testing to DOT testing, Axiom Medical offers everything to improve your workforce's health.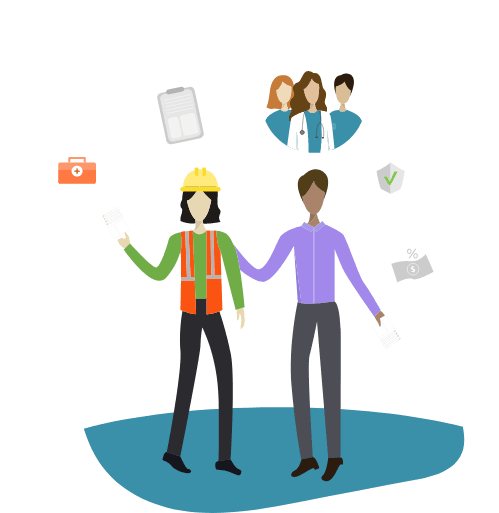 The Axiom team, comprising of highly trained healthcare professionals and program managers, always works closely with clients to deliver care with unrivaled commitment and expertise.
From the moment a client implements a new program, Axiom's team ensures its success. We manage all aspects–from facilitating necessary medical testing with preferred clinics across the country to reviewing medical bills for reasonable and customary charges before payment.
What Is Occupational Health?
Occupational health is a specialized healthcare branch that focuses on employee health and safety in the workplace. This field comprises multiple disciplines focusing strongly on workplace injury, pre-employment testing, occupational medicine, and work-related illness.
Why Choose Axiom For OH Services?
Our clinicians and nurse practitioners are also on hand to review our clients' medical exams.
It is not uncommon to see an error rate approaching 25% in clinics across the country when the physicians complete the paperwork for these exams.
Our medical professionals review them and correct the errors, thus assuring our clients' accuracy and completeness when we send out our Physician's Written Opinion.


OCCUPATIONAL HEALTH SERVICES
HIGHLIGHTS
EMPLOYEE
TESTING
BENEFITS
Functional Capacity Evaluations
DOT Physical
Prevention Of Workplace Injuries
Medication Reviews
Pre-Employment Testing
Reduced Expenses
Drug and Alcohol Testing
Respirator Tests
Silica Testing
Worker's Compensation
Vaccine Programs
& Customizable Testing Programs
Beryllium, Asbestos and
Hazwoper Exam
Workplace Safety
Axiom Occupational Health Services:
Employee Health Testing:
To keep your workplace and workforce safe, Axiom Medical offers a wide range of Employee Testing Services to maintain optimal health and wellbeing of your staff. As a part of our Employee Testing Services, we offer: 
COVID-19 Testing
Flu/Strep Testing
Drug and Alcohol Testing
DOT Exams
Respirator Tests
Silica Testing
Hearing Conservation
Beryllium Exam
Asbestos Exam
Hazwoper Exam 
DOT Physicals:
Axiom Medical is happy to facilitate the entire DOT Physical Exam. Process for both DOT and non-DOT employees. Our DOT and non-DOT physicals will ensure CDL drivers and other safety-sensitive workers always remain in compliance with FMCSA while meeting an appropriate health standard to work safely.
Axiom DOT Exam components include:
Vision
Hearing
Blood Pressure/Pulse Rate
Urinalysis
Physical Exam
One of the key goals of our DOT exams is to have your workforce in compliance with FMCSA regulations and streamlining the mandatory testing process so that the results are easily accessible.
Benefits Of Occupational Health Services:
Studies claim that workplace injuries and illnesses cost employers more than $60 billion annually. Employee absenteeism and workplace injury costs are the primary cause of the total cost. The major goal of implementing a workplace occupational health program is to reduce workplace injuries and mitigate risk. The top benefits of Occupational Health Management include:
Reduced Employee Expenses:
Occupational health prevents workplace injuries and focuses on helping employees get better and back to work. This eventually reduces the overall expenses related to employee absenteeism and work injury costs.
Worker's Compensation:
Occupational health programs are designed to simplify the worker's compensation claims and make the return-to-work process easier.
Workplace Safety:
OH programs can aid in creating preventative measures at the worksite to minimize work-related injuries. Axiom Occupational Health Services include pre-employment drug screening, physical exams, and other medical tests to ensure employees are fit to operate heavy equipment or drive vehicles safely.
Prevention:
As part of employee health services, prevention programs are designed to keep the workplace safe while minimizing the risk of occupational health issues and injuries. This process includes health assessment and other wellness programs to help employees at every step and keep them healthy.
Want to learn more about Axiom Occupational Health Services? Call us today! (877) 502-9466 | (281) 419-7063
I believe with confidence that we are reaching all of our expected goals by bringing Axiom on as an outsourced case management solution.
Axiom has helped us closely monitor the injured employee's progress through the medical treatment process. Early treatment has kept our employees at work when in the past they would have likely taken time off or been placed off by a physician.
I recommend Axiom because their Nurse Case Management Team is their biggest asset. They are accessible, give great reports and are responsive to our needs.
RUSS MILLER
PLAINS ALL AMERICAN PIPELINE