With the emergence of the COVID-19 pandemic, our communities were exposed to a significant health burden and a risk of developing mental health problems what researchers call Post COVID-19 Psychosis.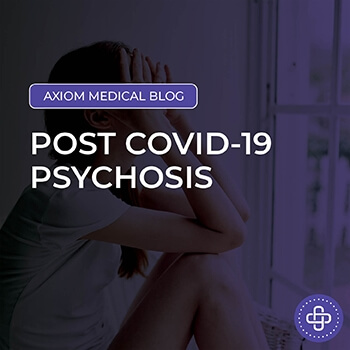 Due to prolonged socially distanced lifestyles and rising global tensions over social, economic, and other issues, mental health cases are actively on the rise.
While many of the reported mental health scenarios post-COVID are consequences of psychological stressors, several cases are actually because of the hospitalization because of the severe symptoms of this disease.
Common Pandemic Psychological Stressors:
The coronavirus pandemic has brought uncertainty into our lives and many psychological stressors affecting our lifestyle and mental health.
Common psychological stressors include:
Fear of illness
Fear of death because of this unknown disease
Economic burdens
Prolonged social isolation
Uncertainty about the future
However, new scientific evidence suggests the virus itself can also trigger psychological stressors in infected people even after the recovery. Studies on a group of individuals who took part in the research showed anxiety, depression, and other psychological conditions among individuals with a history of coronavirus infection.
Emerging neuropsychiatric consequences of COVID-19 also include encephalopathy, dementia, and trauma-related disorders. In fact, this virus can induce acute psychosis, leading to suicidal/homicidal behaviors and severe mental disturbances. While researchers are yet to find the exact biological mechanism of the virus causing psychotic symptoms, the primary reason is the long-term and post-COVID outcomes of this virus-related illness. That means, even after recovering from the disease, people are at risk of developing neurological and psychological symptoms with severe cognitive symptoms leading to extreme behaviors weeks or months after recovering from the virus.
While Covid-19 was initially considered a respiratory illness, more patients now report a host of other symptoms irrelevant to a typical pulmonary disease.
Brain Related Aftereffects of COVID-19: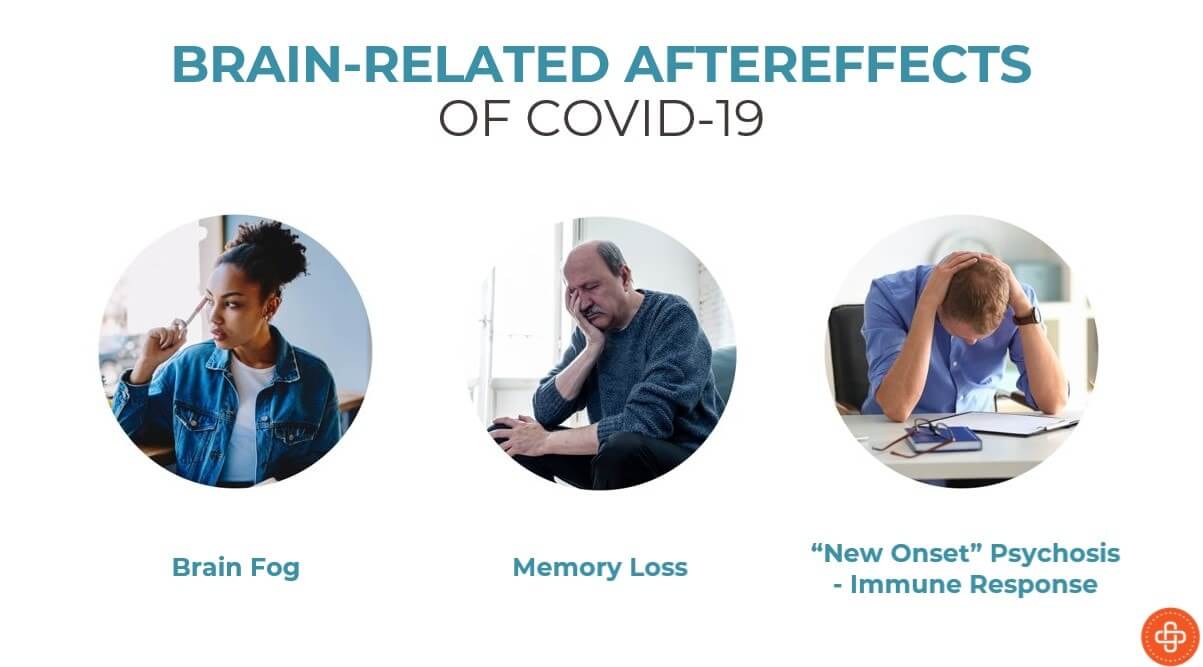 While experts don't think this series of after-effects are unique to COVID-19, psychotic episodes were sporadically reported during the 1918 flu and the SARS phase in the early 2000s. Some of the common brain-related aftereffects of COVID-19 include:
Brain Fog:
Lack of focus
Continuous memory problem
Inability to perform a task
Lack of mental clarity
Memory Loss:
Forgetting common words while talking
Problem in remembering
Taking longer to complete familiar tasks
Psychosis:
Feeling low
Depression
Anxiety
Insomnia, paranoia, and hallucination
Suicidal and homicidal thoughts
Less common symptoms include:
Obsessive paranoia
Violent impulses
Urges to harm self or others
Potential relapse
Recognition of Mental Health Concerns:
Medical experts hypothesize that the COVID-19 psychosis may be associated with the actual immune response to the virus. Recognizing the early indicators is the key to diagnose mental health problems on time. Early indicators may include:
Insomnia
Memory loss
Early signs of depression
Common late warning signs may include:
Paranoia
Violent impulses
Potential relapse
Suicidal or homicidal thoughts
Mental Health Workplace Response
Employers may want to address mental health concerns at the workplace to avoid any potential relapse or violent behavior. Here is what our experts suggest.
Wellness Promotion:
An employee assistance program is one of the best approaches to promote wellness in the workplace. Active communication, flexible schedule, healthcare support, and wellness promotion through counseling and other approaches are perfect options for employers looking forward to addressing mental health concerns.
Early Intervention:
One of the easiest approaches to tackle workplace mental health problems is through early intervention. Understanding the early signs, helping employers by guiding them to counseling by psychologists is the best approach to address work-related mental health issues.
Emergency Intervention:
If one or some of your employees show warning signs such as violent behaviors, paranoia, or/and suicidal symptoms, contact 911 immediately. Emergency intervention can help your employee and may help save some lives.
Employees experiencing severe mental health problems must follow these four key points.
Stick to the suggested treatment plan
Practice relaxation
Developing coping skills
Staying connected to psychologist and family members for ongoing support when needed
Psychosis related to COVID-19 may become more prevalent in our society. As this pandemic impacts our lives, stress can lead to anxiety and eventually to severe psychosis. Social disruption and uncertainty can be ongoing and may make mental symptoms even worst. A combined approach is the best way to deal with sensitive stress and its symptoms. If your symptoms worsen, always contact emergency services and your provider to start with a treatment plan.
With over 20+ years of experience in employee health and safety programs, Axiom Medical can help employers with COVID-19 Safety and Compliance Programs. We specialize in COVID-19 screening, employee contagious respiratory illness assessment, CheckIn2Work daily attestation, and employee vaccination programs with onsite COVID-19 vaccine administration. As a part of our COVID-19 Response Program, our Health Safety Supervisors (HSS), COVID Compliance Officers (CCO), and nurse testers oversee the onsite testing and workplace safety implementation processes.
Get Our FREE COVID-19 Vaccine Guide!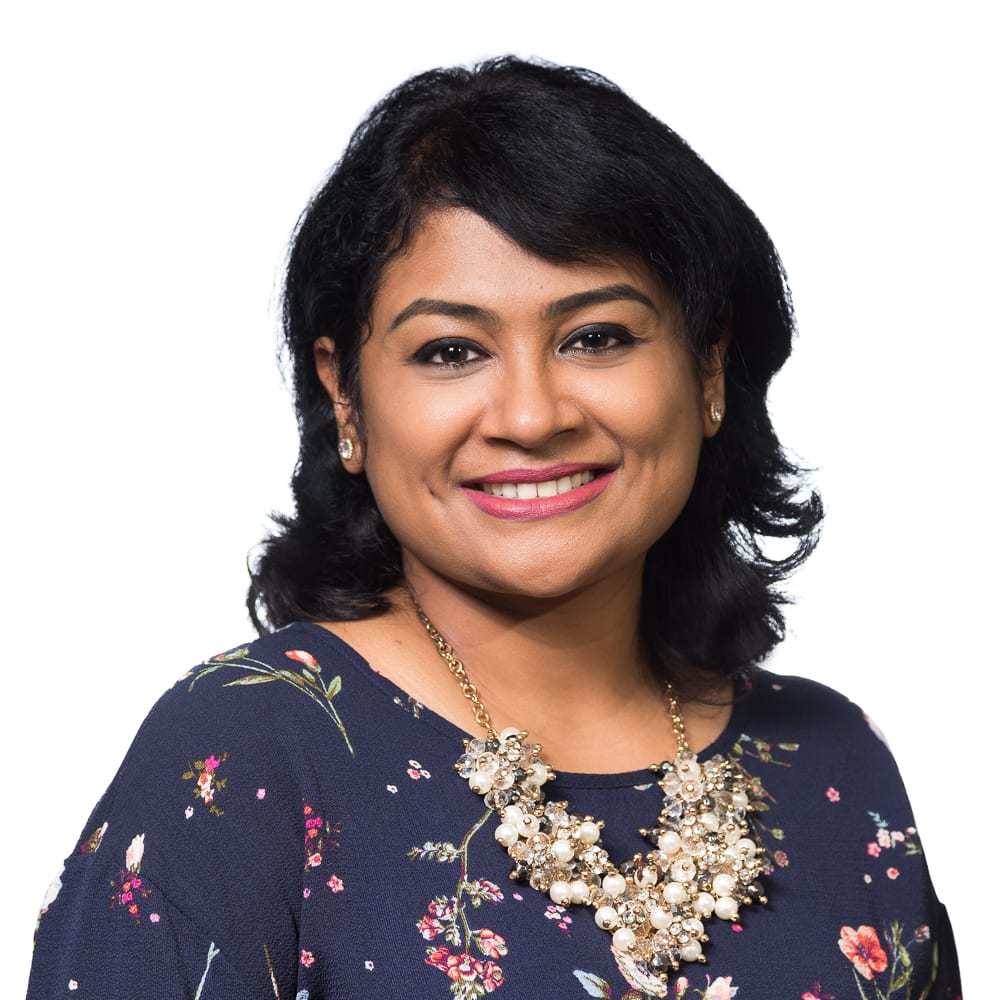 With a career focused on digital marketing, Chitra is a specialized SEO-Content marketer. After moving from biotechnology to business operations and marketing, Chitra started her digital marketing career as a freelance content developer and technical writer. With Axiom, as a content marketing & SEO specialist, she is passionate about creating informative marketing copies for optimum search engine performance.
Find out more about our Tempo Live Behavioral Health and  Injury Case Management services.