Axiom Medical's revolutionary CheckIn2Work App delivers quick and easy, self-service health attestations for employers in search of solutions to pre-screen employees for possible infectious conditions, due to COVID-19 or similar respiratory illness.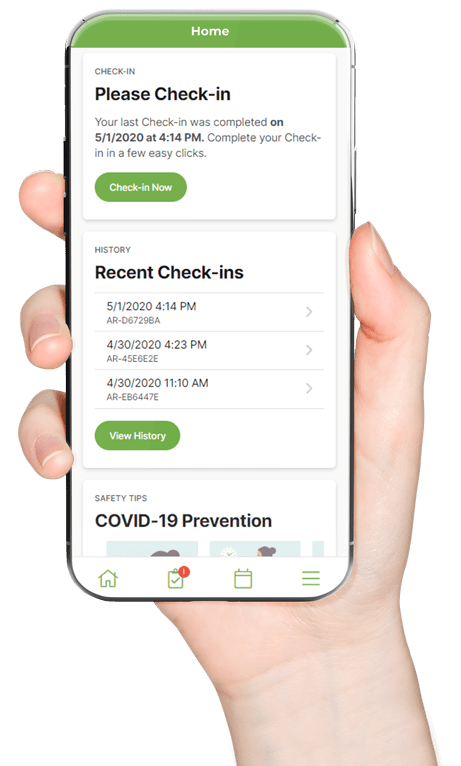 Our CheckIn2Work App is a first of its kind technology, providing a point of entry protection. Employers looking to help stop the spread of illness in the workplace can now have the confidence to safely reopen their offices, while protecting both the workplace and the workforce today.
CheckIn2Work is a mobile screening app that provides workplace point-of-entry protection through initial employee health screenings. The application delivers a quick and easy self-service health attestation for organizations looking to manage the spread of contagious disease spread at the workplace by pre-screening team members before allowing access to the workplace. 
Based on the results, if a client's team member is flagged as experiencing symptoms or having been exposed to an infectious disease, Axiom Medical's market-leading Contagious Respiratory Illness Assessment (CRIA) Clearance Center professionals conduct a secondary screening to eliminate false positives.  Confirmed cases are closely monitored by our CRIA team throughout recovery with facilitation of a safe return to work.
What sets CheckIn2Work apart from other apps is:
Device-based self-service illness/exposure screening with 24/7 access
Real-time reporting with multi-language support
Continuously updated screening criteria
CRIA support when flagged
Access to highly experienced and fully licensed medical professionals in all U.S. states and territories
Onsite COVID-19 testing through our mobile trailer lab for confirmation
Case management overseeing everything from initial screening to return-to-work
Data integration with client HRIS solutions
Ongoing advice and training on best practices to reduce the spread of illness in the workplace

Speak to a Technical Rep Anytime.
(281) 465-7527 | support [at] checkin2work [dot] com
Introducing TEMPO Live
BEHAVIORAL HEALTH FROM AXIOM MEDICAL
Tempo Live makes the impossible, possible! Exclusively designed for an on-the-go workforce, complex behavioral health needs are easily identified and medically addressed anytime, anywhere.
TEST DRIVE TEMPO LIVE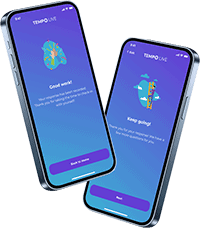 Tempo Live's proactive, comprehensive approach helps you build and maintain a resilient, safe, & behaviorally-health-conscious work environment with ongoing support at every turn your business faces.
How can I download the CheckIn2Work App?
Once your employer signs the contract with Axiom Medical, employees can download the app and start using it with their company-assigned ID.
Available On iOS and Android:
CheckIn2Work app is available to download on both iOS and Android mobile devices in addition to the web portal. Our app is also available in an agent-assisted version to accommodate employee populations with limited internet access.  In its R9 version featuring built-in flexibility, the app supports multiple language needs. Our mobile screening app is customizable to fit any slate of questions an employer needs to ask, addressing their employees' physical and mental health.  Employers can edit the questionnaire by adding or removing questions relevant to COVID-19 screening or anything company-specific to ensure their workforce and workplace is safe.
Benefits of Axiom Medical's CheckIn2Work:
In the midst of such a pandemic situation, keeping your workplace and workforce safe and infection-free is challenging. Recently, OSHA also introduced new guidelines to mitigate infectious disease breakouts at a worksite. With our employee screening app, it's easy for employers to screen their employees and keep their workplace safe and COVID-19-free.
Some of the top benefits of our app are:
Reducing the risk of workplace COVID-19 outbreak
Screen employees with daily self-attestation before allowing them to access to offices/worksites
Screening for other contagious illnesses (Strep, Flu)
Detailed CRIA assessment after positive cases are recorded

Quick follow up by registered nurses and case managers
Who Can Use CheckIn2Work App?
CheckIn2Work is a versatile app and can be used in a variety of industries. Some of our top clients, who use this application include:
Education (Schools, School Districts, and Universities)
Restaurant & Retail (Essential Workers)
Manufacturing
TV and Film Production Sets
Maritime
Travel and Hospitality
Large events (sports, concerts, festivals)
"Their why is very similar to ours and so their experience and our experience has been a partnership. It's not been a transactional vendor relationship and that's been extremely important to use."
COVID-19 CRIA Screening & Testing
Axiom Medical understands the importance of effectively managing COVID-19 exposure and illness. Our Rapid Response COVID-19 Program and testing services will help businesses like yours create a healthy environment for their workforce while ensuring a rapid restoration of business activities and operations.
Once your employees are flagged in the CheckIn2Work app, our CRIA case managers will re-screen and proceed to the next steps, including a COVID-19 testing and case management afterward.
We provide fast and flexible testing services, including:
Mobile Labs with Onsite COVID-19
Employee Testing (Flu, TB Skin Test)
Following a confirmed positive laboratory test, our case managers will work with your employees to create an immediate care plan for quick recovery and return-to-work. Our team will also conduct contact tracing to prevent outbreaks and avoid costly shutdowns.
Chief Medical Officer, Dr. Scott Cherry, DO., MPH, FACOEM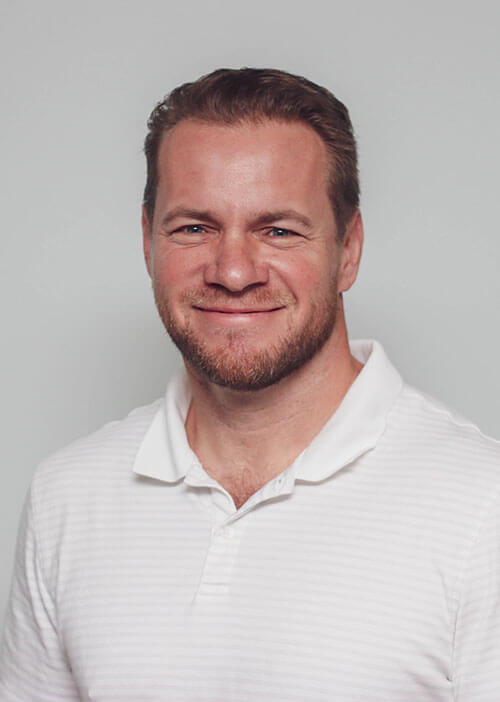 Dr. Cherry is the Chief Medical Officer for Axiom Medical. He is an experienced physician executive with a passionate focus on health, human performance, and prevention. With his dual board certification in Occupational/Environmental Medicine and Preventive Medicine/Public Health, he is a distinguished fellow within the American College of Occupational & Environmental Medicine.
His experience has spanned across the U.S. militaries, Fortune 500 corporations, and commercial markets, including combat medic, general practice physician, occupational medicine specialist for the U.S. Army's sole fast burst nuclear reactor, and regional medical director for Memorial Hermann Health System, the Dow Chemical, and Chevron Corporation.
How Is Axiom Medical Helping TV & Film Production Industry?
Dr. Scott Cherry on The Cheddar