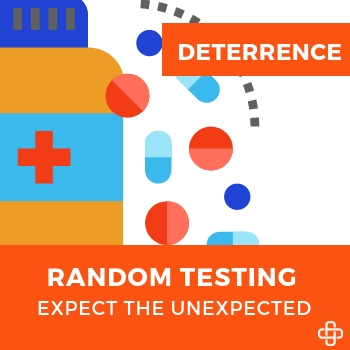 With one in six on-the-job fatalities being associated with drug and alcohol, I think it's safe to say, we all agree there's a problem.  The question is whether you will take a position and be part of the solution.
Random Drug Testing – Why it Works
Contrary to what many people believe, the goal of random drug testing isn't to "catch" employees using drugs.  Drug testing employees is about preventing employee drug use in the workplace!
Take a look at the stats provided in Quest Diagnostics' Drug Testing Index Report:
In 1988, 13.6% of the tested employee workforce were positive for one or more drugs
In 1991, 8.8% of the tested employee workforce were positive for one or more drugs
In 2001, 4.7% of the tested employee workforce were positive for one or more drugs
In 2017, 4.2% of the tested employee workforce were positive for one or more drugs
The results speak for themselves. Ongoing employee drug testing results in lower drug test positivity rates.
As employees expect to be randomly tested and held accountable, they are less likely to use drugs.
How Random Drug Testing Works
Random, or "spot," drug testing is a strong deterrent to drug users because it is conducted on an unannounced / unexpected basis.
Using a random selection process (e.g., computer-generated), an employer selects one or more individuals from all the employees included in the employer's workplace drug-testing program. By using a random selection process, employers ensure that there is no bias and that all employees have an equal chance of being selected, even those who have been drug tested recently.
Random drug testing can be more effective at detecting and deterring drug use than pre-employment testing because employees do not know when they may be selected for testing.
What Are The Business Benefits of Random Testing? 
Workplace Safety
The key to preventing injuries starts with a safe workplace.  If employees are using illegal mind-altering substances, and are under the influence of these drugs while at work, it's only a matter of time before your next accident will occur.
This is especially true for safety sensitive positions such as those which require operation of company vehicles, heavy machinery, manual labor or working directly with consumers.
Deterrence of Drug Use / Productivity in the Workplace
Employees who are under the influence of drugs are less productive, resulting in significant cost to your business.  If an employee knows that your company has a drug-free policy, they are certainly more likely to abstain from using illegal substances altogether.
Maintenance of Healthcare Costs
As drug users are more likely to be involved in workplace accidents, they are also more likely to incur significantly higher medical expenses than typical employees.
Ready to be Part of the Solution with Drug/Alcohol Testing? 
Our Occupational Health Programs and Incident Case Management Services provide a wide range of drug/alcohol employee testing services to maintain the well-being of your staff throughout their employee health journey.
We'll determine the necessary testing required for your employee population, specific to your parameters, industry and objectives.
We'll manage all aspects of your drug/alcohol program which include the testing and reporting for:
Pre-employment
Post Incident (often referred to as post-accident)
Reasonable Suspicion / Cause
Return to Work
Random
Fill out the contact form above to find out how simple your employee health journey can become!

Holly is an ER nurse by trade, but loves content marketing.  She was born outside the box and believes everything is better with "sprinkles and sparkles".  She is passionate about impacting lives and uses marketing as her platform for sharing practical solutions to address real life occupational health challenges.
Find out more about our Injury Case Management services or our Occupational Health Programs.