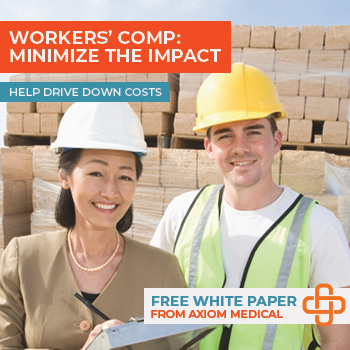 According to the U.S. Department of Labor, employers pay an average of $1 billion per week on direct workers' compensation costs alone.
If American workplaces are getting safer, why are the costs of serious workplace injuries continuing to rise? 
For two reasons:
Lack of Prevention. Employers who control the risk of injury with a safety policy, ongoing safety training and employee testing minimize their risk, and statistically have a safer workforce overall.
Absence of Intervention. The sooner your employee can be treated, the sooner they can safely get back to work. Without early intervention in place to manage the recovery process, the more you're business will be impacted.
These can include:
Workers Compensation Claims
Productivity Loss
Absenteeism
Legal Fees
Unfortunately, this is just the tip of the iceberg.
Q and A: Challenges and Solutions For Every Employer 
Our free whitepaper, Workers' Comp: Minimize the Impact explains how to lessen the financial impact it puts on your business, and a direct approach to solving your biggest workers' comp challenges.
Want to learn how to identify where workers' comp is hitting you the hardest and solve these challenges before the fact?
Our whitepaper teaches you how to do that too – and it couldn't be simpler.
About the Author

Sean Crawford is the author of Workers' Comp: Minimize the Impact, and is Axiom Medical's Sales Process and Training Manager. Sean came to the team in 2016, with a background in insurance and remains passionate about employee health and best practice incident case management and occupational health services.