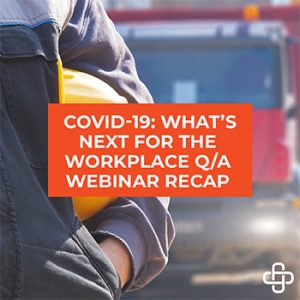 In case you missed the COVID-19:  What's Next for the Workplace Webinar, we have you covered!  Take a look at some of the many questions submitted, with answers provided by both Mark Robinson, Axiom Medical's President, and CEO and Chief Medical Officer, Dr. Scott Cherry.
"Different Normal" for Business
The US Surgeon General has spoken of a "different normal" when the nation re-opens.  As business leaders, what will this mean for the workforce and what processes should be implemented to protect employees from illness exposure?
Business leaders will need to consider a variety of working aspects, to include:
Employee Illness Status – We now have a legitimate reason to know if an employee is contagious to mitigate exposure risk to other employees, vendors, and customers.  We also need to know that others who access our places of business are not contagious.
Absence Management – Employers will need to update their workflows for both absence management and return to work processes.
Office Setting – For employers who have employees that will return to an office setting, things such as layout and occupancy limitations must be evaluated to permit appropriate social distancing.
Business Travel – While most organizations have utilized technology such a phone and video conferencing, employers will need to consider processes for understanding where employees may travel, including layovers.
Remote Working – Many employers may continue to utilize work from home options, until a vaccine becomes available, to minimize exposure risk.
Facial Coverings
The CDC provided new recommendations regarding facial coverings.  How does this relate to the workplace?
The CDC facial covering recommendations should be considered by both the general public and the workplace.  The science reflects such coverings do provide an additional layer of protection for those you come into contact with.
Workplace Social Distancing
Larger warehouses and grocery store chains have started to implement single direction pathways.  Will this help with social distancing and should we look at implementing these practices in our business?
While there has been limited scientific evidence related to the results of such process changes, it would be understood that directing pathways would help with social distancing and therefore limiting exposure risks.
Employee Arrival/Departures
Should we start modifying arrival/departure times for employees starting and completing their shifts to minimize large crowds?
Absolutely, employers should consider staggering arrival and departures for peak times.  Anything you can do to make a process support the behaviors we are trying to promote to guard against will help with limiting exposure in the workplace.
Communal Areas
What type of guidance should we be giving employees who share the same areas for meal and shift breaks?
The guiding principle is that we want to organize our work and break activities to minimize close contact.  We want to maintain a distance of six feet and avoid spending prolonged periods of time with co-workers.  Staggering break periods should be considered, along with making cleaning products readily available to wipe down surface areas when touched.
Temperature Screenings
Should we start temperature checks before employees begin shifts and what would be considered a fever?
A fever is defined as a temperature of 100.5 or greater.  As fever is a key symptom of infectious disease, taking employee temperatures would be a strong objective measure in addition to implementing a health screening process for those who have been exposed or begin to develop symptoms consistent with COVID-19.  However, as a specific temperature value may be considered protected health information, employers may want to consider a third-party provider, who can monitor such data and appropriately provide complete health screenings.
Returning to the Workplace
As the nation opens back up, for employers who have utilized telework options, should everybody be brought back on the same date?
Until a vaccine is readily available, employers may want to consider allowing employees to continue working from home to minimize exposure risk.  When returning to the workplace, this should be implemented in phases, taking into account provisions for social distancing recommendations.
Additional Questions
The questions don't end here!  Check out the on-demand recording of COVID-19:  What's Next for the Workplace here.
Do you have a question you would like to have answered?  Email us at coronavirus@axiomllc.com.  Looking for more coronavirus (COVID-19) resources, check out our webpage for more information about Axiom's COVID-19 Rapid Response Program.
Holly is an ER nurse by trade, but loves content marketing.  She was born outside the box and believes everything is better with "sprinkles and sparkles".  She is passionate about impacting lives and uses marketing as her platform for sharing practical solutions to address real life occupational health challenges.
Find out more about our Injury Case Management services or our Occupational Health Programs.