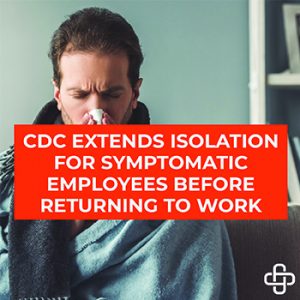 The CDC has now extended isolation for employees suspected to have COVID-19.
Employees who experience symptoms associated with COVID-19, but have not been tested may return to work when they have met the following criteria:
Fever free for at least 72 hours (without the use of medication that reduces fever)
Respiratory symptoms have improved
At least 10 days have passed since their symptoms first appeared
Keep in mind, all three elements of the criteria must be met.
Have additional questions for the experts? Email us at coronavirus@axiomllc.com.

Holly is an ER nurse by trade, but loves content marketing.  She was born outside the box and believes everything is better with "sprinkles and sparkles".  She is passionate about impacting lives and uses marketing as her platform for sharing practical solutions to address real life occupational health challenges.
Find out more about our Injury Case Management services or our Occupational Health Programs.