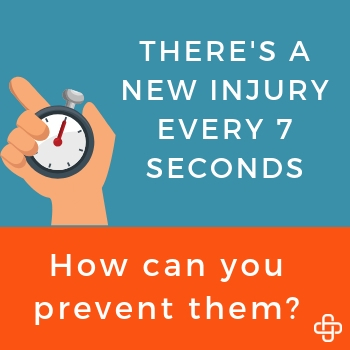 Nobody wants to have an injury on their watch. Yet every 7 seconds an employee becomes injured at work!
Aside from the financial implications for the employer, the long term effects to the employee are often severe and debilitating.
The truth about injury prevention is simple: most work-related injuries are preventable.
By focusing on health and safety, we can all improve the well-being of our workforce, and enjoy a healthy bottom line.
Here's how:
Slips, Trips and Falls
Whether from the same level or lower level, slips, trips, and falls make up 25% of injuries.  These would include head, neck and back pain, broken bones, lacerations, bruising, etc.
Prevention Measures
Always place a stool or ladder on a solid, even surface
Use good housekeeping practices, keeping the workplace free of clutter and debris
Object/Equipment Contact
Also at 25% of injuries, direct contact with an object or equipment can be dangerous when struck, caught or compressed.
Prevention Measures
Stay alert to moving objects/equipment in the work area
Store heavy objects as close to the floor as possible
Utilize personal protection equipment
Overexertion
From lifting and loading to repetitive motions, overexertion accounts for 34% of all injuries.  These are typically your musculoskeletal sprains and strains.
Prevention Measures
Avoid bending, reaching and twisting when lifting
Don't overdo it – take frequent rest breaks
Focusing on prevention will be the key to avoiding these workplace injuries. What will YOU do to make a difference?
How About Managing Employee Health in a Whole New Way? 
Do you ever feel powerless when it comes to minimizing recordable injury outcomes and getting injured workers back on the job as fast as possible?
If so, Axiom Medical's Incident Case Management Service is specifically designed for managers like you!
Our telephonic OSHA trained Nurse Case Managers are available 24/7 to treat injured employees.
With over 65% of cases being managed internally with first aid measures, you can expect significant improvements in your OSHA recordable outcomes.
From pre-hire to post-separation, Axiom sees employee occupational health as a journey you shouldn't have to travel alone!
Give us a call at+1 (877) 502-9466 or fill out our contact form to find out just how easy an effective occupational health program can be!

Holly is an ER nurse by trade, but loves content marketing.  She was born outside the box and believes everything is better with "sprinkles and sparkles".  She is passionate about impacting lives and uses marketing as her platform for sharing practical solutions to address real life occupational health challenges.
Find out more about our Injury Case Management services or our Occupational Health Programs.