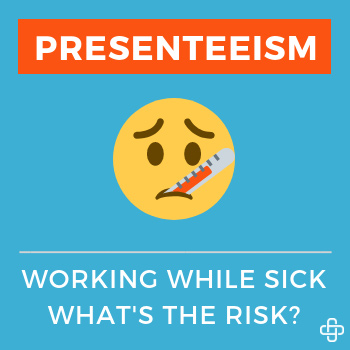 Do you have employees that come to work, but may not feel well enough to perform their duties?
While some employees might consider themselves heroes or dedicated, there is actually a term for it – presenteeism.
The unfortunate truth is, being sick can lead to injury on the job – costing the employer BIG, and placing employees at risk.
A Forklift Accident
Craig White tells the story of having an employee who was lifting a hydraulic forklift jack into a truck.
The jack suddenly fell off of the forks onto another employee's foot, breaking several bones.
After the ambulance left with the injured worker, he asked the forklift operator if he was okay, and concerned about his mental state after such an incident.
The operator expressed remorse for the incident.
He explained he had been battling the flu, which he recognized impacted his work performance.
Impact of Illness on the Body
When thinking of the ramifications of coming to work sick, we typically consider the risk of spreading germs and causing others to become ill.
Illness impacts the body in the following ways:
Cognitive processing
Motor skills
Reaction times
Alertness
Deficits in any of these factors can lead to serious accidents, injuring not only the employee who is ill, but also those around them.
Why Employees Come to Work Sick
 A CCH Survey found that 38 percent of employers report presenteeism being a problem in their organizations.
The survey noted that when sick employees show up for work, there is a significant and costly impact on an organization, not only in risking the spread of disease, but also contributed to diminished productivity, quality and attention to safety.
Asked why employees come to work sick, the survey found the following results from respondents:
Too much work / deadlines
No one available to cover workloads
Do not want to use vacation time
Want to save sick time for later in the year
Fear of discipline
Programs to Curb Presenteeism
CCH employment law analyst Brett Gorovsky, JD. recommends the following programs and policies for employers looking to curb presenteeism:
Reevaluate Disciplinary Policies
An organization that disciplines an employee for taking an extra day of sick time needs to be aware of the consequences of this action.  Sick employees will be at work and may be spreading germs as well as exposing the organization to additional safety and health risks.
Paid Sick Leave / Paid Leave Banks
Providing paid time is an effective way for employers to help manage presenteeism.
69 percent of employers reported having paid sick leave or paid time off in place as preventive measures to help control presenteeism, according the CCH Survey.
Carry-Over Policies
Given not every flu season is as severe as the next and employees often have good and bad years when it comes to their health, employers that allow employees to carry over some or all of their unused sick days may allow employees a better way to manage the time they need to recoup
Wellness and Flu Shot Programs – taking a proactive approach to helping employees manage their health, both in terms of maintaining a healthy lifestyle and taking preventative measures that reduce illness, also reduces the risk of presenteeism.
Other solutions might include "toolbox talks", educating employees as to the importance of caring for themselves.
Axiom's Health and Safety Focus
At Axiom Medical, the safety and health of your employees is our number one focus!
Whether needing Occupational Health Programs to assist with Employee Absence Management or Incident Case Management, we stand ready to support you through each stage of the employee health journey!
Fill out the form above to find out how easy employee health can be!

Holly is an ER nurse by trade, but loves content marketing.  She was born outside the box and believes everything is better with "sprinkles and sparkles".  She is passionate about impacting lives and uses marketing as her platform for sharing practical solutions to address real life occupational health challenges.
Find out more about our Injury Case Management services or our Occupational Health Programs.