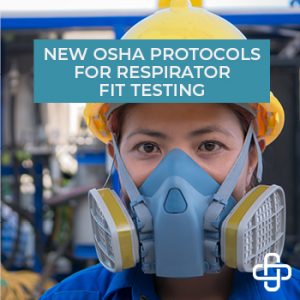 The U.S. Department of Labor's Occupational Safety and Health Administration (OSHA) has issued a final rule that provides employers with two new fit testing protocols for ensuring that employees' respirators fit properly.
New Protocols
The new protocols include:
The modified ambient aerosol condensation nuclei counter (CNC) quantitative fit testing protocol for full-facepiece and half-mask elastomeric respirators.
The modified ambient aerosol CNC quantitative fit testing protocol for filtering facepiece respirators.
Benefits
Both protocols are variations of the original OSHA-approved CNC protocol, but have:
Fewer test exercises
Shorter exercise duration
More streamlined sampling sequence
Industries Impacted
Keep in mind, the protocols apply to employers in:
General industry
Shipyard employment
Construction industry
OSHA concludes that the new rule will end up saving employers considerable money in the long run, estimating such savings as more than $4 million per year to regulated entities.
These protocols will serve as alternatives to the four existing quantitative fit testing protocols already listed in Appendix A of the Respiratory Protection Standard. OSHA says that it found that these protocols "will maintain safety and health protections for workers while providing additional flexibility and reducing compliance burdens."

Holly is an ER nurse by trade, but loves content marketing.  She was born outside the box and believes everything is better with "sprinkles and sparkles".  She is passionate about impacting lives and uses marketing as her platform for sharing practical solutions to address real life occupational health challenges.
Find out more about our Injury Case Management services or our Occupational Health Programs.