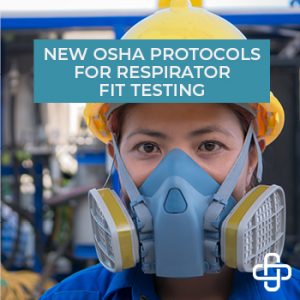 The U.S. Department of Labor's Occupational Safety and Health Administration (OSHA) has issued a final rule that provides employers with two new fit testing protocols for ensuring that employees' respirators fit properly.
New Protocols
The new protocols include:
The modified ambient aerosol condensation nuclei counter (CNC) quantitative fit testing protocol for full-facepiece and half-mask elastomeric respirators.
The modified ambient aerosol CNC quantitative fit testing protocol for filtering facepiece respirators.
Benefits
Both protocols are variations of the original OSHA-approved CNC protocol, but have:
Fewer test exercises
Shorter exercise duration
More streamlined sampling sequence
Industries Impacted
Keep in mind, the protocols apply to employers in:
General industry
Shipyard employment
Construction industry
OSHA concludes that the new rule will end up saving employers considerable money in the long run, estimating such savings as more than $4 million per year to regulated entities.
These protocols will serve as alternatives to the four existing quantitative fit testing protocols already listed in Appendix A of the Respiratory Protection Standard. OSHA says that it found that these protocols "will maintain safety and health protections for workers while providing additional flexibility and reducing compliance burdens."