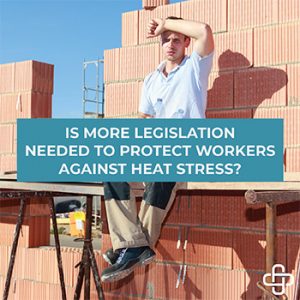 Is more legislation needed to protect workers against heat stress? here is what every employer should know. Given that heat stress killed 783 workers and caused serious injuries to 69,374 others between 1992 and 2016, according to the Bureau of Labor Statistics, lawmakers appear to be taking a closer look at OSHA regulations.
A new bill in the House of Representatives would require the Occupational Safety and Health Administration (OSHA) to establish federal standards to protect workers in high heat environments.
What is the Asuncion Valdivia Heat Illness and Fatality Prevention Act?
Introduced by Reps. Judy Chu (D-California) and Raúl Grijalva (D-Arizona), the Asuncion Valdivia Heat Illness and Fatality Prevention Act would:
Mandate paid breaks in cool spaces with access to water
Impose limitations on heat exposure working durations
Require heat illness risk factor training
Further define proper procedures for responding to heat illness symptoms
What Can You Do to Protect Heat Exposed Employees?
As recommended by OSHA, employers with outdoor workers should follow these steps to prevent heat illness:
Plan
Develop and implement an effective written heat illness prevention plan that includes emergency response procedures.
Training
Train all employees and supervisors on heat illness prevention.
Water
Provide drinking water that is fresh, pure, suitably cool and free of charge so that each worker can drink at least 1 quart per hour, and encourage workers to do so.
Shade
Provide shade when workers request it and when temperatures exceed 80 degrees. Encourage workers to take a cool-down rest in the shade for at least five minutes. They should not wait until they feel sick to cool down.

Holly is an ER nurse by trade, but loves content marketing.  She was born outside the box and believes everything is better with "sprinkles and sparkles".  She is passionate about impacting lives and uses marketing as her platform for sharing practical solutions to address real life occupational health challenges.
Find out more about our Injury Case Management services or our Occupational Health Programs.