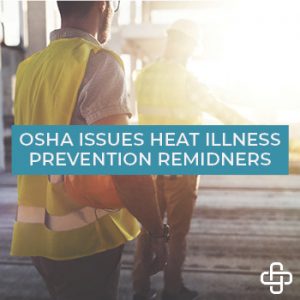 OSHA is reminding all employers to protect their outdoor workers from heat illness as temperatures continue to rise.
In addition to responding to workplace accidents and complaints of hazards, OSHA investigators conduct high heat inspections at outdoor worksites to ensure compliance with heat illness prevention regulation and other workplace safety and health requirements.
Employers with outdoor workers must take the following steps to prevent heat illness:
Plan – Develop and implement an effective written heat illness prevention plan that includes emergency response procedures.
Training – Train all employees and supervisors on heat illness prevention.
Water – Provide drinking water that is fresh, pure, suitably cool and free of charge so that each worker can drink at least 1 quart per hour, and encourage workers to do so.
Shade – Provide shade when workers request it and when temperatures exceed 80 degrees. Encourage workers to take a cool-down rest in the shade for at least five minutes. They should not wait until they feel sick to cool down.
OSHA urges workers experiencing possible overheating to take a preventative cool-down rest in the shade until symptoms are gone. Workers who have existing health problems or medical conditions that reduce tolerance to heat, such as diabetes, need to be extra vigilant.
Some high blood pressure and anti-inflammatory medications can also increase a worker's risk of heat illness.
To prevent heat illness, it is crucial that supervisors are effectively trained on emergency procedures in case a worker gets sick. This helps ensure sick employees receive treatment immediately and that the symptoms do not develop into a serious illness or death.

Holly is an ER nurse by trade, but loves content marketing.  She was born outside the box and believes everything is better with "sprinkles and sparkles".  She is passionate about impacting lives and uses marketing as her platform for sharing practical solutions to address real life occupational health challenges.
Find out more about our Injury Case Management services or our Occupational Health Programs.