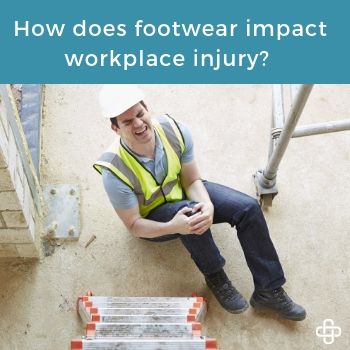 Did you know that a simple sprain can lead to a costly outcome when it's not treated right away? Over 40 percent of injuries occur to the feet and ankle, costing employers an average lost time of 32 days away from work!
A simple way you can reduce workplace injuries like slip and falls?
Wear the right footwear!
Can the Wrong Shoes Cause Employee Injury?
According to the Bureau of Labor Statistics, sprains and strain injury accounted for 43 percent of the 1.3 million injuries and illnesses in private industry that required recuperation away from work. 
Slip, trips and falls (which can be caused by wearing the wrong footwear) resulted in 44.5 million injuries nationwide, costing organizations $967.9 billion!
With the emphasis placed on injury protection for the eyes and hands, where's the importance on feet? Simple activities at work that require us to walk, climb, squat or even stand for long periods of time we don't give much thought to.
We just do them on a daily basis.
Throw a sprain, tear or strain in the mix, and the pain during work becomes unbearable, resulting in:
Costly claims;
Lost time;
OSHA recordables!
The right footwear plays an instrumental role in injury prevention; without it, employees run the risk of:
Heel pain;
Blisters;
Bunions;
Sprains/ligament strains;
Increased risk of tripping;
Back injuries.
Putting Their Best Foot Forward
The right footwear isn't just instrumental in fulfilling job duties, it's a pivotal part of injury prevention.  Unfortunately,  personal protective equipment (PPE) is often made with a one-size-fits-all.
When it comes to comfort (especially for workers who stand most of the day), that won't provide the protection they need to keep their toes, heels and ankles safe!
The environment in which your employees walk may be full of danger, including: electrical hazards, weighted dangers, and slippery surfaces.
Here's how to help employees minimize injury by encouraging them to wear the safest footwear available:
Encourage employees to select a comfortable shoe/boot that meet the industry requirements. A balance between shoes that are comfortable and shoes that are in compliance is key.
Does it sufficiently protect the toes? Their job will dictate their safety shoes/boots. There are many choices to consider: composite toes, soft toes, alloy toes and steel toes. Which one they choose will depend on the materials they're working with, the chemicals they're around, and their duties as a whole.
Offer anti-fatigue insoles. Some work shoes and boots offer anti-fatigue insoles. Anti-fatigue insoles reduce lower fatigue by using a spring like technology, limiting the harness of concrete flooring. Anti-fatigue matting is another option to help provide additional traction and reduce foot discomfort.
Employer tip: focus on lighting! How well lit is the environment your employees are working in? Ask your employees for input. A little more light can lead to a big payoff it it means your workers will have improved visibility during their shift.
When Injuries Occur, Axiom Medical Provides 24/7 Support
No matter how well equipped and safe your employees are, injuries will take place. But the rate at which those injuries escalate lies in your hands.
At Axiom Medical, we offer an injury management program that's composed of a team of in-house registered nurses 24/7 who are licensed in all 50 states to assess your injury within minutes after it occurs.
In over 60 percent of the cases called in, our nurses can treat the injury at a first-aid level. To learn more about how Axiom can help you, fill out the contact form or call us at +1 (877) 502-9466!