Detecting invisible workplace risks is always a challenge. One such hidden hazard is carbon monoxide, a colorless and odorless gas.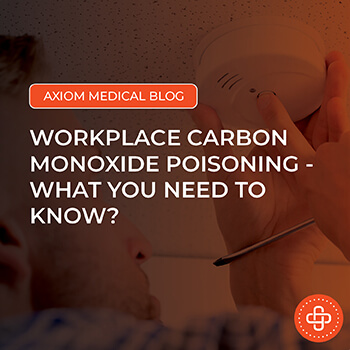 When inhaled, CO displaces oxygen in the blood – depriving the heart, brain, and other vital organs. Exposure to CO can quickly lead to loss of consciousness, suffocation or death – large amounts of the gas can overcome a worker in minutes without warning.
How Are the Workers Exposed?
Workplaces where an internal combustion engine is operated indoors or in confined areas usually have increased carbon monoxide levels. Other possible reasons for carbon monoxide in the workplace include:
Gas-powered engines

Fires

Natural gas space heaters

Furnaces

Kilns

Boilers
Employees working in a confined space with all these machines are at risk of carbon monoxide.
How to Reduce the Risks of Workplace CO Poisoning?
To reduce the potential risk of workplace CO poisoning, employers need to control the workplace's risks and hazards. One of the most effective ways to manage exposure is to eliminate the source of exposure. If that's not possible to implement, the employer may consider other risk controls to use. Here are some suggestions for employers while selecting risk control measures to reduce workplace Carbon monoxide poisoning.
Elimination or substitution of engines that emit carbon monoxide

Stop using diesel or gas equipment indoors and swap with electric machinery if possible

Making physical onsite modifications to reduce exposure and improve ventilation

Develop a written exposure control plan to help employees understand the risks of carbon monoxide poisoning

Install carbon monoxide monitors as a safety measure

Provide your employees personal protective equipment if the workplace CO exposure cannot be minimized
Warning Signs of the "Silent Killer"
Although symptoms may vary widely from person to person, initial symptoms of CO poisoning include:
Headache
Fatigue
Dizziness
Drowsiness
Nausea
Note:  During prolonged or high exposures, symptoms may worsen and include vomiting, confusion, and collapse.
At-Risk Employee Populations:
You may be exposed to harmful levels of CO in boiler rooms, warehouses, petroleum refineries, pulp and paper production, and steel production; around docks, blast furnaces, or coke ovens; or in one of the following occupations:
Welder
Garage mechanic
Firefighter
Carbon-black maker
Organic chemical synthesizer
Metal oxide reducer
Longshore worker
Diesel engine operator
Forklift operator
Marine terminal worker
Police officer
Awareness is Prevention:
Employers are encouraged to educate workers about the sources and conditions that may result in CO poisoning, symptoms and exposure controls. To reduce CO exposure risk in the workplace, OSHA recommends:
Test air regularly in areas where CO may be present, including confined spaces.
Maintain equipment and appliances that produce CO.
Consider switching from gasoline-powered equipment to equipment powered by electricity, batteries or compressed air if it can be safely used.
Do not use gasoline-powered engines or tools in poorly ventilated areas.
Install CO detectors with audible alarms.
Taking Action:
If a worker is experiencing CO poisoning, you must act fast!
Get the victim to the fresh open air
Call 911 for assistance.
First responders who may be at risk of exposure to CO should be trained on appropriate recovery operations.
With over 20+ years of experience in employee health and safety programs, Axiom Medical can help employers with COVID-19 Safety and Compliance Programs. We specialize in COVID-19 screening, employee contagious respiratory illness assessment, CheckIn2Work daily attestation, and coronavirus testing programs with onsite or home COVID-19 testing with results within 24 hours. Our COVID-19 Response Program also includes onsite COVID-19 compliance officers and nurse testers to oversee the onsite testing and workplace safety implementation processes.
Click Below For Our FREE COVID Vaccine Guide!


Holly is an ER nurse by trade, but loves content marketing.  She was born outside the box and believes everything is better with "sprinkles and sparkles".  She is passionate about impacting lives and uses marketing as her platform for sharing practical solutions to address real life occupational health challenges.
Find out more about our Injury Case Management services or our Occupational Health Programs.