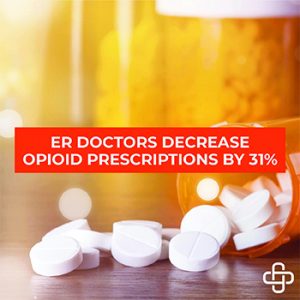 Want to make any safety and health representative nervous?  Mention the phase emergency department (ED) and its mission accomplished!  Why?  Typically, it is the over-treatment of injuries and the risk of managing recordability outcomes.  Tack on the number of opioid prescriptions being written and it's no wonder emergency departments across the country carry a bad reputation.  But is it all doom and gloom?  Or could we see a glimpse of light at the end of the tunnel?
National Health Statistics Report
According to 2020, Trends in Opioids Prescribed at Discharge from Emergency Departments Among Adults Report, it appears the trend is changing.  In a comparison of data between 2006 – 2007 and 2016 – 2017, the overall percentage of all ED visits by adults at which opioids were prescribed at discharge has decreased by 30.1%.
Knowing emergency room visits involving opioid prescriptions is one of the risk factors for long-term opioid use, it is a positive progression that emergency department physicians are increasingly turning to alternatives to treat pain.
Chief complaints associated with opioid prescriptions include:
Dental pain.
Kidney stones.
Fractures.
Back pain.
Extremity pain.
While the study reports a decrease in acetaminophen-hydrocodone prescriptions, it appears tramadol and acetaminophen-codeine continue to be utilized.
Workplace Impact
To continue to drive down opioid prescriptive therapy for occupational injury, it's vital that employers take a broader approach to the problem.  How can this be done?  Start here:
Accurate Assessments
As no two injuries are the same, nor should treatment.  Occupational injuries should be fully assessed – understanding the mechanism of injury, current symptoms and evaluating a full medical history.  Third-party providers, such as Axiom's Incident Case Management, rely on OSHA-trained Nurse Case Managers, who are telephonically available 24/7, to aid in this process.
Appropriate Treatment
Following an accurate assessment, an individualized treatment plan should be established.  For the majority of injuries, which consist of occupational sprain/strains, first aid measures with the use of over the counter medications, are most effective for acute pain.
Should an injury require a higher level of care, nurse case managers not only assist with making appropriate arrangements, but they also communicate directly with treatment providers regarding conservative treatment.
Recovery Monitoring
Most importantly, the key to successful outcomes is close monitoring.  Having someone, such as a nurse case manager, who can evaluate the employee's response to treatment will ensure a successful and speedy recovery.

Holly is an ER nurse by trade, but loves content marketing.  She was born outside the box and believes everything is better with "sprinkles and sparkles".  She is passionate about impacting lives and uses marketing as her platform for sharing practical solutions to address real life occupational health challenges.
Find out more about our Injury Case Management services or our Occupational Health Programs.