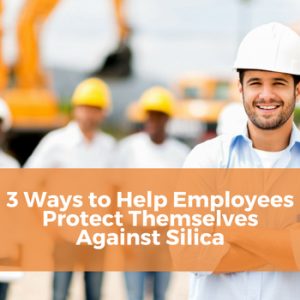 Supporting your employee's ongoing health and wellness has been shown to lead to greater employee job satisfaction and productivity.
What better way to accomplish this than helping them to minimize their exposure to Silica, and support a healthy team of employees for the long haul?
Silica Exposure is a Silent Killer 
Smaller than a grain of sand you'll find at the beach, silica is a dusty substance commonly found when drilling, sawing, grinding or sanding.
It's also found in tiles, brick, granite, top soil, asphalt, cement, mortar and concrete.
Although over 2.3 million employees are exposed to it daily, silica is dangerous, and can cause life threatening disease and illness when preventative measures aren't taken.
Here are three steps you can take to minimize (or altogether eliminate) silica exposure in the workplace:
Evaluate the Risks
Minimizing silica risk starts by assessing your work environment for potential exposure.
Assign a knowledgeable employee the role of identifying workplace hazards and enforcing safe clothing and protective gear at all times.
Make sure your employees have proper respiratory protection, and stay compliant with annual respiratory testing.
Control Silica Exposure With Substitutes
One of the best ways to eliminate silica-related health problems is to avoid silica altogether—and you can begin doing that by swapping out silica containing materials with these silica substitutes:
Emery
Urea plastic
Glass beads
Shot
Aluminum oxide
Garnet
Want more info?
OSHA offers a comprehensive list of silica substitutes, which is a great tool to keep your workers safe!
Follow Safety Protocol
As an employer, you're in a great position to demonstrate safety standards for your entire company, many of which your employees will easily follow!
Communicate the importance of ongoing safety training (and show up yourself!)
Remind your employees to wear washable work clothing and change into clean clothes before leaving work.
Before eating or drinking, make sure to always wash your hands and face to prevent accidental exposure and encourage your employees to do the same!
We Can Help Keep You Compliant!
If your employees are commonly hammering, drilling, or grinding rock, tunneling soil, hydro blasting, or cutting stone, they may be exposed to silica.
Silica is very dangerous, with long-term health effects such as lung cancer, kidney disease and silicosis (an incurable lung disease).
In an effort to better protect employee's exposure, OSHA has finalized two mandated silica standard tests, effective June 23, 2018—one for those in the construction field, and another for those in the maritime and general industry.
Maintaining compliance can be tricky, but we make it easy.
All it takes is one call, and we'll coordinate employee exams that cover everything OSHA requires to stay and remain compliant!
Managing your silica testing needs is just one of the ways we're transforming occupational medicine.
[cta id="690″ align="none"]


Holly is an ER nurse by trade, but loves content marketing.  She was born outside the box and believes everything is better with "sprinkles and sparkles".  She is passionate about impacting lives and uses marketing as her platform for sharing practical solutions to address real life occupational health challenges.
Find out more about our Injury Case Management services or our Occupational Health Programs.