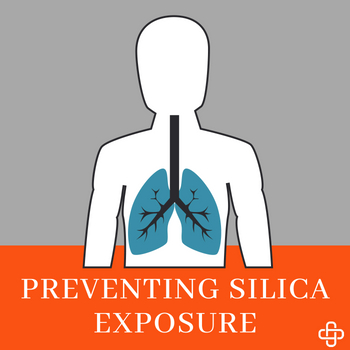 When we think of hazards in the workplace, our minds typically focus on physical accidents.  But could employees be at risk for injury while doing their regular jobs?
Absolutely!– if they are exposed to silica.
Why is Silica Dangerous?
Although crystalline silica dust may seem harmless, due to the particles being at least 100 times smaller than ordinary sand you might find on beaches and playgrounds, it is not.
The dust particles can penetrate to the deepest part of the human lung when inhaled.
Chronic exposure and inhalation of such respirable crystalline silica (RCS) dust can lead to severe lung disease, such as silicosis and increased risk of developing tuberculosis.
What Jobs are at Risk for Increased Exposure to RCS Dust?
 The CDC identifies many different industries which have a high risk for inhalation of respirable crystalline silica, including:

 Construction
Sandblasting
Jack hammering
Rock drilling, cutting, chipping or polishing
Brick or tile cutting and sawing
Concrete drilling, sawing, grinding and polishing
Tunneling
Demolition
As>phalt milling
Tuckpointing
Stone countertop fabrication
Diatomaceous earth processing
Pottery production
Foundries
Work on linings of rotary kilns and cupola furnaces
Mining
Hydraulic fracturing
What Steps Can Your Employees Take to Prevent Silicosis?
NIOSH recommends employees take the following steps to prevent development of silicosis:
Remember that while you may not see dust, you may still be at risk.
Know the dangers of breathing in crystalline silica dust, and avoid working in or near dust whenever possible.
Use water spray systems and proper ventilation in confined spaces.
If water systems and ventilation are not enough, your employer must provide respirators specifically designed to protect against crystalline silica.
Thoroughly wash your hands before eating or drinking in dusty areas.
Shower and change into clean clothes before leaving work to help prevent contamination of your car or home.
Participate in health and lung screenings offered by your employer.
Get & Stay OSHA Compliant with Axiom's Help!
 Axiom offers comprehensive Silica Exams to keep you OSHA compliant, which include:
Silica Questionnaire
Physical Exam
Chest X-ray with "B" Reader TB Skin Test
Respirator Questionnaire
Respiratory Fit Test
Pulmonary Function Test
Let us help you protect your employees against silica exposure today.  Give us a call at (877) 502-9466

Holly is an ER nurse by trade, but loves content marketing.  She was born outside the box and believes everything is better with "sprinkles and sparkles".  She is passionate about impacting lives and uses marketing as her platform for sharing practical solutions to address real life occupational health challenges.
Find out more about our Injury Case Management services or our Occupational Health Programs.