With over 2.3 million U.S. employees being exposed to silica in the workplace, you may be asking yourself three basic questions:
Who is at Risk?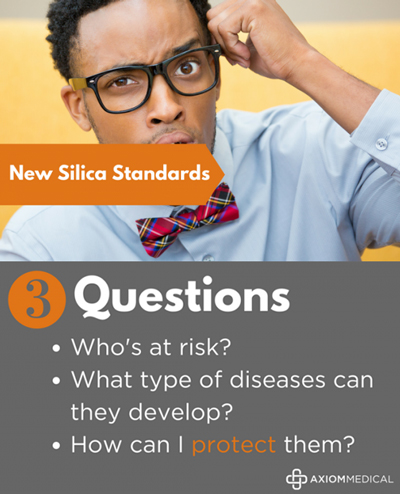 Any employee who is exposed to respirable crystalline silica is at risk.  OSHA defines respirable crystalline silica as very small particles at least 100 times smaller than ordinary sand you might find on beaches and playgrounds, created when cutting, sawing, grinding, drilling, and crushing stone, rock, concrete, brick, block, and mortar.
Activities such as abrasive blasting with sand; sawing brick or concrete; sanding or drilling into concrete walls; grinding mortar; manufacturing brick, concrete blocks, stone countertops, or ceramic products; and cutting or crushing stone result in worker exposures to respirable crystalline silica dust.
Industrial sand used in certain operations, such as foundry work and hydraulic fracturing (fracking), is also a source of respirable crystalline silica exposure.
What type of diseases can they develop?
Silica-related diseases include:
Silicosis – incurable lung disease that can lead to disability and death
Lung Cancer
Chronic Obstructive Pulmonary Disease (COPD)
Kidney Disease
How can I protect my employees?
OSHA has issued two respirable crystalline silica standards, which require protection/testing:
Construction – enforcement began September 23,2017.
General Industry and Maritime – enforcement begins June 23, 2018.
Axiom Helps – Get Compliant with JUST ONE CALL!
Axiom offers comprehensive Silica Exams to keep you OSHA compliant, which include:
Silica Questionnaire
Physical Exam
Chest X-ray with "B" Reader TB Skin Test
Respirator Questionnaire
Respiratory Fit Test
Pulmonary Function Test
We do all the work so you don't have to!  Call us today to protect your employees and stay OSHA complaint 281.465.7100.

Holly is an ER nurse by trade, but loves content marketing.  She was born outside the box and believes everything is better with "sprinkles and sparkles".  She is passionate about impacting lives and uses marketing as her platform for sharing practical solutions to address real life occupational health challenges.
Find out more about our Injury Case Management services or our Occupational Health Programs.