With all due respect Mr. Tom Petty, FALLIN AIN'T FREE!
Every working environment has unique safety challenges, but when it comes to slips, trips, and falls, get ready to pay!
According to the U.S. Department of Labor, slips, trips and falls make up the majority of general industry accidents, which account for:
15% of all accidental deaths per year, the second-leading cause behind motor vehicles
About 25% of all reported injury claims per fiscal year
More than 95 million lost work days per year – about 65% of all work days lost
Fortunately, these types of injuries can be prevented by educating employees of common hazards, implementing fall safety training and thoughtful consideration of employee health factors, such as a confidential review of personal medications for staff members with safety-sensitive job classifications.
Easily Identified Hazards
The potential for slips, trips and falls can be widespread, but it is important to understand where danger lies.
Common hazards associated with such injuries include:
Slippery surfaces, such as a gloss-finished tile, polished stone, etc.
Holes or broken surfaces.
Uneven walking surfaces.
Poorly marked and/or poorly lit walkways.
Wet surfaces caused by spills or poor drainage.
Slippery conditions due to mud, ice or water during inclement weather.
Employees should be trained to immediately report any observed hazards.
Download our FREE Guide – 5 Tips for Preventing Workplace Hazards
Click the image below to download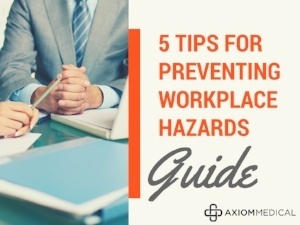 Fall Safety Training
OSHA requires that organizations provide training to all employees exposed to fall hazards.  To ensure your organization is providing the correct type of training, Occupational Health & Safety (OH&S), recommends asking the following questions:
What level of training should my employees have?
How do I select the right trainer?
What records do I need to keep?
How often do workers need training?
For more details, check out their post What You Need to Know About Fall Protection Training – Hands-on practice helps to instill confidence and increase competence in users. 
Confidential Occupational Health Medication Reviews
Did you know that almost 70% of Americans take at least one prescription medication, and more than half take at least two, according to a study by researchers at the Mayo Clinic.  The most common prescriptions are for antibiotics, antidepressants, and opioid painkillers, though other non-narcotics, including over the counter medications, also pose workforce safety threats.
While organizations understandably express caution regarding procedures, which require disclosure of protected health information, the good news is that you are not alone and now have the option of outsourcing medication reviews by licensed medical professionals, such as Axiom's Occupational Health Medication Review Program.
By communicating directly with the employee by phone, Axiom's licensed medical professionals:
Optimize safety of your employees.
Identify inappropriate medication usage.
Reduce worksite injuries/accidents.
Coordinate with treating physicians to ensure best medication practice is in place.
---
Protecting Employees Together
Falls are the leading cause of workplace injuries, but together we have the power to rewrite the story. Safety is never a one man job; everybody has a seat at the table.  Take advantage of the many resources available to your organization.
Whether needing assistance with 24/7 Incident Case Management in which our licensed medical professionals impact OSHA recordable outcomes with in-house conservative treatment or turn key Employee Occupational Health Management which handles all testing throughout the lifecycle of employment, Axiom stands ready to help.
[cta id="487″ align="none"]

Holly is an ER nurse by trade, but loves content marketing.  She was born outside the box and believes everything is better with "sprinkles and sparkles".  She is passionate about impacting lives and uses marketing as her platform for sharing practical solutions to address real life occupational health challenges.
Find out more about our Injury Case Management services or our Occupational Health Programs.