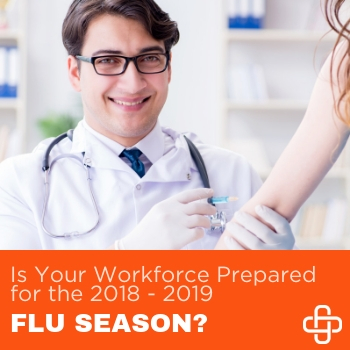 When flu season hits, employees struggle with their health, and their paycheck.
A national survey found that the flu can cost employees as much as $8.5 billion in lost wages.
Read on as we take a look at what you need to know about the 2018 – 2019 flu season and steps you can take to keep your workforce healthy and productive this season.
What to Expect for the 2018-2019 Flu Season
While it's impossible to predict what the upcoming 2018-2019 flu season will be like, a Food and Drug Administration (FDA) committee has decided to include both Influenza A strains (H1N1 and H3N2) in this year's vaccine, along with two additional Influenza B strains.
Even though the flu vaccine is not 100 percent effective, the CDC estimates that an increase in the number of vaccines administered could save millions of people from getting the flu.
Common Flu Symptoms
Unlike a cold, flu symptoms typically develop suddenly.  Remember, one key factor that would indicate you may have the flu is fever.
Other common symptoms include:
Headache
Severe muscle and join aches
Sore throat / runny nose
Dry cough
Weakness / extreme fatigue
Warm, slushed skin with red watery eyes
What Can You Do to Prevent Spreading Illness in the Workplace?
Take our 15 second Flu IQ by filling out the form below.
It will assess your workplace hazards that increase your risk of developing the flu so you can better protect yourself all season long.
Next up?
Get Vaccinated! 
Getting a flu vaccination is the single best thing that you and your employees can do each flu season to protect yourself from severe illness.
Practice Good Health Habits
Along with vaccination, good health habits also act as a line of defense against the flu.
Wash your hand regularly with soap and water or an alcohol-based hand rub.
Use a tissue to cover your nose and mouth when sneezing and coughing. Dispose of the tissue immediately after use.
Clean and disinfect surfaces that people come into contact with at work or home.
Isolate Illness
Make sure that employees who have flu-like symptoms are sent home and do not expose others to illness!  Sick workers should remain home until 24 hours after their fever has resolved.
Axiom's Health and Safety Focus
At Axiom Medical, the safety and health of your employees is our number one focus!  Whether needing Occupational Health Programs to assist with Employee Absence Management or Incident Case Management, we stand ready to support you through each stage of the employee health journey!
Fill out the form above to find out how easy employee health can be!

Holly is an ER nurse by trade, but loves content marketing.  She was born outside the box and believes everything is better with "sprinkles and sparkles".  She is passionate about impacting lives and uses marketing as her platform for sharing practical solutions to address real life occupational health challenges.
Find out more about our Injury Case Management services or our Occupational Health Programs.