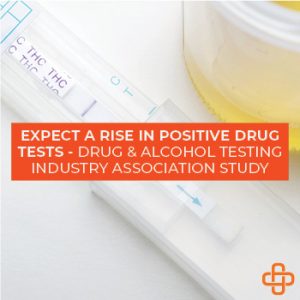 According to a study presented at the Drug and Alcohol Testing Industry Association's Annual Conference, the rate of positive drug tests for illicit substances among U.S. workers in 2018 reached a 14-year peak, with marijuana playing a significant role!
Researchers analyzed the results of more than 9 million drug tests. They found that 4.4% of the combined U.S. workforce (both the general workforce and employees who undergo federally mandated drug testing) tested positive – up from 4.2% in 2017 and 2016 and the highest since 2004 when the rate was 4.5%.
Positive tests for marijuana use among the general workforce rose to 2.8% from 2.6% in 2017. Among workers in safety-sensitive jobs, that percentage was 0.88 last year – a slight increase from 0.84% in 2017 and up from 0.71% in 2014.
Marijuana is legal for medicinal use in 33 states and for recreational use in 10 states, plus the District of Columbia, Guam and Puerto Rico.
"As marijuana policy changes and employers consider strategies to protect their employees, customers and the general public, employers should weigh the risks that drug use, including marijuana, poses to their business," Barry Sample, senior director of science and technology at Quest Diagnostics, said in an April 11 press release.
Positive tests for opiates fell across the board among the general workforce:
Natural opiates, such as morphine or codeine, decreased to 0.31% from 0.39% in 2017.
Semisynthetic opiates, such as hydrocodone, dipped to 0.5% from 0.51%.
Oxycodones (oxycodone and/or oxymorphone) dropped to 0.43% from 0.61%, and from 0.8% in 2014.
Under new federal rules, additional testing for four semisynthetic opiates among workers in safety-sensitive jobs resulted in a higher positivity rate, to 0.45% from 0.34% in 2017. Heroin and cocaine use, meanwhile, declined in the general and safety-sensitive workforces.
"Post-accident" positive tests showed rate increases in both groups: to 8.4% from 7.7% in 2017 among employees in the general workforce, and to 4.7% from 3.1% among workers in safety-sensitive jobs.
"Increases in post-accident positivity among safety-sensitive workers should serve as a warning to employers that employee drug use may increase the risk of workforce accidents or injuries," Quest Diagnostics Scientific Director Kimberly Samano said in the release. "Our analysis suggests that employers committed to creating a safe, drug-free work environment should incorporate strategies that monitor drug use above and beyond pre-employment drug screening."
Should you need assistance with drug/alcohol testing, Axiom Medical can design a program to meet the needs of your workforce!

Holly is an ER nurse by trade, but loves content marketing.  She was born outside the box and believes everything is better with "sprinkles and sparkles".  She is passionate about impacting lives and uses marketing as her platform for sharing practical solutions to address real life occupational health challenges.
Find out more about our Injury Case Management services or our Occupational Health Programs.