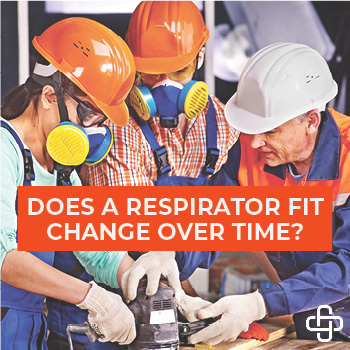 Like it or not, everything changes–including respirator fit equipment!
As an employer, would you be able to recognize what those physical changes are to keep your employees safe at work?
What about how frequently you should provide fit testing for employees?
If you don't know the right answers to these problems, you've got an expensive problem on your hands. 
Read on for the solution!
Significance of Respirators
Respirators serve an important function by protecting workers from significant hazards including:
Insufficient oxygen
Harmful pollutants in dusts
Fog
Smoke
Mist
Gases
Vapors
Sprays
However, a respirator can't protect an employee if it doesn't fit their face! Certain respirators, known as tight-fitting respirators, must form a tight seal with the face or neck to work properly.
If the respirator doesn't fit the face properly, contaminated air can leak into the respirator face piece, potentially exposing the worker to hazardous substances.
Fit Testing Frequency
According to the CDC, results of a recently completed NIOSH study confirm the necessity of the current Occupational Safety and Health Administration (OSHA) respirator fit testing requirement, both annually and when physical changes have occurred.
The study's conclusions emphasize that respirator users who have lost more than 20 pounds should be re-tested to be sure that the current size and model of respirator in use still properly fits.
In addition to annual fit testing, OSHA requires that fit testing be repeated "whenever an employee reports, or the employer or the physician or other licensed health-care professional makes visual observations of changes in the employee's physical condition that could affect respirator fit."
Examples of such changes include:
Large weight gain or loss;
Major dental work (such as new dentures);
Facial surgery that may have changed the shape of your face, or;
Significant scarring in the area of the seal.
Protect Employees and Stay OSHA Compliant with a Respirator Protection Program
Studies have shown that issues relating to compliance with respiratory fit testing are many times associated with the time-consuming burden placed on workplace resources.
If that sounds like you, perhaps it's time to consider a Respirator Protection Program with Axiom Medical!
We provide Pulmonary and Respirator Function Exam options based on the duties being performed by the employee. Choose from the OSHA required Respirator Questionnaire, Respirator Fit Test, and/or the Pulmonary Function Test to identify any medical conditions that could place an employee at risk while on the job.
Ready to simplify the process while protecting your employees?
Give us a call at +1 (877) 502-9466 or fill out our contact form to find out just how easy an effective Occupational Health Program can be!

Holly is an ER nurse by trade, but loves content marketing.  She was born outside the box and believes everything is better with "sprinkles and sparkles".  She is passionate about impacting lives and uses marketing as her platform for sharing practical solutions to address real life occupational health challenges.
Find out more about our Injury Case Management services or our Occupational Health Programs.