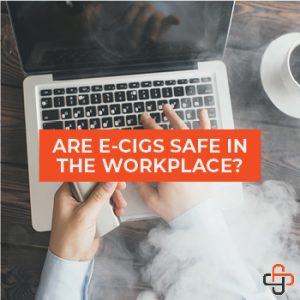 As the use of e-cigarettes grows, employers are faced with a new question: Are e-cigs safe in the workplace?
E-cigarettes (or electronic cigarettes) are any electronic device that can be used to deliver nicotine or other substances to the person inhaling from the device. They come in many shapes and sizes and may look like regular cigarettes, cigars or pipes or resemble items such as pens or USB sticks. Using an e-cigarette is commonly called vaping.
CDC Alert
The Centers for Disease Control and Prevention (CDC) is urging people to "consider not using e-cigarette products" as it investigates whether vaping is linked to lung illnesses that led to the deaths of several people in recent weeks.
According to the CDC's latest report, its early findings suggest "serious illnesses associated with e-cigarette products point to clinical similarities among those affected."
The CDC said it's ruled out infectious disease as the cause of the lung illness-related deaths. The agency now believes chemical exposure from e-cigarettes is likely the cause of the deaths.
"We are committed to finding out what is making people sick," said Robert R. Redfield, MD, director of the Centers for Disease Control and Prevention. "All available information is being carefully analyzed, and these initial findings are helping us narrow the focus of our investigation and get us closer to the answers needed to save lives."
Since the lung-related illness first started over the summer, the CDC has been involved in a multi-state investigation, working with the Food and Drug Administration (FDA), states, health partners, and clinicians to find the possible root to the problems.
"As of today, more than 25 states have reported possible cases of lung illnesses associated with the use of e-cigarette products (e.g., devices, liquids, refill pods, and cartridges)," states the CDC report.
In addition to suggesting people stop using e-cigarettes, the CDC also advises vapers to "monitor themselves for symptoms (e.g., cough, shortness of breath, chest pain, nausea, vomiting, abdominal pain, fever) and promptly seek medical attention for any health concerns."
Furthermore, the CDC recommends not buying e-cigarettes products off the street or modifying them for uses not intended by the manufacturer.
Explosion Risks
In addition to the health factors associated with e-cig use, the US Fire Administration (USFA) is also keeping track, and counted 195 media reports of exploding vapes between 2009 and 2016. The USFA points to lithium-ion batteries in vapes as "a new and unique hazard," according to a 2017 report.
"The shape and construction of electronic cigarettes can make them (more likely than other products with lithium-ion batteries) behave like 'flaming rockets' when a battery fails".
Workplace Policy
If you're wondering about the rules in your state around vaping in the workplace, check out this helpful guide from the Public Health Law Center at Mitchell Hamline School of Law, which covers smoke-free restrictions: U.S. E-Cigarette Regulation: A 50-State Review.
If your state does not have specific e-cigarette laws, the option is yours, as an employer, to decide whether to ban vaping at work.
If a workplace vaping policy isn't something your organization has addressed yet, consider making it a priority for the future. As an employer, you'll want to consider the pros and cons of e-cigarette use and examine how it fits into your company's culture and goals.

Holly is an ER nurse by trade, but loves content marketing.  She was born outside the box and believes everything is better with "sprinkles and sparkles".  She is passionate about impacting lives and uses marketing as her platform for sharing practical solutions to address real life occupational health challenges.
Find out more about our Injury Case Management services or our Occupational Health Programs.