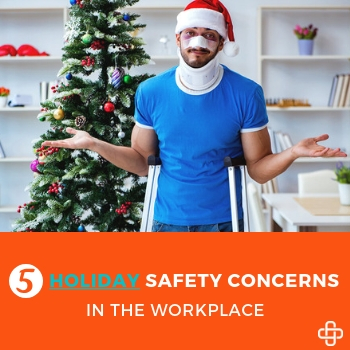 Festive celebrations, flickering lights and a flurry of activities are hallmarks of the holiday season, but they can also lead to dangers in the workplace.
Keep your employees safe by keeping these five dangers commonplace during the holidays!
1. Fatigue
Of all of the months to keep a close eye on having tired employees at work, December is the one!
The holidays can be a stressful time for everybody.
While industries face some of their busiest times leading up to the end of the year, people are also tasked with personal responsibilities, such as attending community events, decorating their homes and fulfilling family commitments.
As a result, fatigue in the workplace can lead to significant safety challenges.
2. Auto Accidents
 When it comes to auto accidents during the holidays, you have to consider the three D's:
Drunk driving
Distracted driving
Drowsy driving
Take the time to review safe driving practices with your employees.
In fact, use this topic as your next toolbox talk covering the following talking points, as recommended by the National Safety Council:
Drowsiness affects a driver's ability to make good decisions and slows reaction time if needing to break or steer suddenly.
Use a designated driver when attending holiday parties where alcohol will be served.
Make sure every person in the vehicle is properly buckled up no matter how long or short the distance traveled.
Put that cell phone away! Many distractions can occur while driving, but cell phones are the biggest distraction of all.
3. Slips, Trips and Falls
Think slips, trips and falls are unrelated to the holidays?
Think again!
If corridors and rooms are free of decorations and cables throughout the year, people are likely to become complacent and fail to notice when suddenly there is something in their way. Holiday lights and decorations should be clearly visible and kept out of the way to prevent tripping.
Don't forget the other winter weather hazards: snow, ice and rain!
With shorter, darker days, it can be easy for people to miss or misjudge a step when walking outdoors.
Promptly remove snow and ice from walkways and consider providing additional mats to stop snow and water from being brought inside working areas.
4. Electrical Accidents
"Shocked" to see electrical accidents as a workplace safety concern?
According to a study by the U.S. Consumer Product Safety Commission (CPSC), approximately 5,000 people per year receive medical treatment for indoor and outdoor electric shock during the holiday season.  To keep your employees safe at home and at work:
Ensure decorative lights have been tested for safety by a recognized testing laboratory, which indicates conformance with safety standards.
Do not utilize damaged lighting decorations.
Do not overload electrical sockets.
Unplug decorations at night or when you leave the building.
Refrain from utilizing electric lights on metallic trees.  The tree can become charged with electricity from faulty lights, and a person touching a branch could be electrocuted.
5. Food Poisoning        
What's a holiday season without food, right?
But before everyone brings their favorite potluck dish, you may want to remind employees of the basic holiday food safety tips, as recommended by the U.S. Department of Health and Human Services, to prevent the gift of food poisoning:
Do not rinse raw meat and poultry before cooking.
Use a food thermometer to make sure meat is cooked to a safe temperature.
Refrigerate food within two hours.
When storing turkey, cut the leftovers in small pieces so they will chill quickly.
Wash your hands frequently when handling food.
Axiom's Health and Safety Focus this Holiday Season
 At Axiom Medical, the safety and health of your employees during this holiday season is our number one focus!
Whether needing Occupational Health Programs to assist with Employee Absence Management or Incident Case Management for immediate treatment of employee injuries, we stand ready to support you through each stage of the employee health journey!
Fill out the form above to find out how easy employee health can be.
Axiom wishes you a safe and healthy holiday season!

Holly is an ER nurse by trade, but loves content marketing.  She was born outside the box and believes everything is better with "sprinkles and sparkles".  She is passionate about impacting lives and uses marketing as her platform for sharing practical solutions to address real life occupational health challenges.
Find out more about our Injury Case Management services or our Occupational Health Programs.