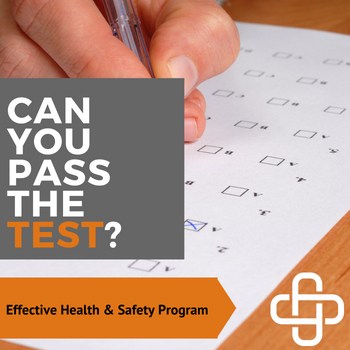 Is the cost of employee injury weighing heavily on your mind? Do you wonder how you can create a more effective way to boost productivity, and keep expensive worker's comp claims down? '
Effective employee safety and health doesn't happen by accident and it's not a random occurrence.
The good news?
An effective health and safety program will get you to where you want to be.
Learn the four essential elements of safety that will keep your employees fit and healthy to do the job they were hired to do!
3 Questions To Ask That Leads to a Healthier Workforce
If you struggle with injured employees, safety 'mishaps', a staff that should simply be more focused on safe working practices OR if you've simply ever wondered how effective your health safety and program really is, answer these three basic questions:
Does it improve employee morale and productivity?
Are the extent and severity of work related injuries and illnesses reduced?
Have you seen a reduction in workers' compensations costs?
The good news, however, is if you answered "NO" to any of the questions or could use a refresher, the wheel doesn't have to be reinvented.  Let's take a look at what OSHA defines as the four major elements of an effective health safety program and how to implement each one.
1. Management Commitment and Employee Involvement

Any type of change requires leadership and buy in.
While management will need to be the driving force behind setting policy, employees need to know they play a part also by developing and expressing their own commitment to safety and health protection.
Once your policies and procedures are clearly defined and communicated, management must lead by example.
2. Work Site Analysis
Schedule regular work site safety reviews and continuously evaluate the working environment to identify existing and potential hazards.
Investigate accidents and "near miss" incidents so that causes and prevention means can be identified.
To get employees involved in the process, develop a simple tool used for reporting safety issues they may come across in the workplace.
3. Hazard Prevention and Control
Establish procedures for correction or control of hazards such as:  working techniques, provision of personal protective equipment and administrative controls.
This would include setting up training and drills, establishing an incident reporting process and providing for facility and equipment maintenance.
4. Safety and Health Training
Make sure managers and front line supervisors understand their responsibilities to not only closely monitor the safety of the work environment, but also reinforce employee training daily.
Not sure what to say?
Check out our post for how to deliver the perfect toolbox talk.
Looking for a New Approach to Enhance Your Health and Safety Program?
Axiom Medical views employee health as a journey from pre-hire to post-separation.
Our occupational health programs help ensure a healthy workforce that is capable of performing all tasks expected of each role and should an incident occur, we have you covered with 24/7 incident and injury case management services which manage optimal outcomes and help the employee return to work.
Contact us today to learn how easy it is to get started!
[cta id="{{insert_default}}" align="none"]