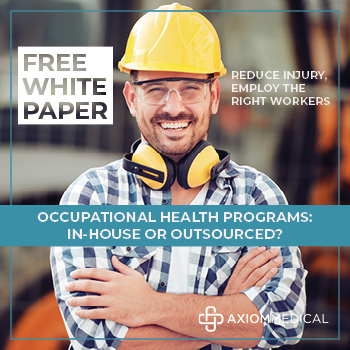 The U.S. Bureau of Labor Statistics reported there were 2.8 million non-fatal workplace injuries last year. On average, clinics have a 15% error rate in reporting results, billing and employee data. Where does this leave the employer? Paying BIG.
But it's not just money you're losing.
It's time.
What are your managers spending their time on? Are they supporting the operations of a functional and productive workflow, or injury claims, legal battles, and absenteeism costs?
A healthy workforce is a productive workforce.
Without a properly managed occupational health program to support your growing workforce, you lose time that's required to grow your business – and that's something you can't get back.  
A streamlined solution lies within an outsourced occupational health program, allowing you to:
Boost productivity with a healthy workforce
Reduce absenteeism with an expedited Return to Work program
Reduce the amount of lost time and OSHA recordables with early (and often) testing
Download our FREE whitepaper, and you'll uncover the three most common reasons why keeping occupational health in-house is a short-term quick fix.
Want the long term solution?
Our whitepaper shows you from a data driven approach how outsourcing provides you a one-stop resource to immediately impact injury outcome costs and the total employee health.
Download our FREE whitepaper now!