Axiom Medical Releases "3 Questions to Ask About CBD Oil in the Workplace" White Paper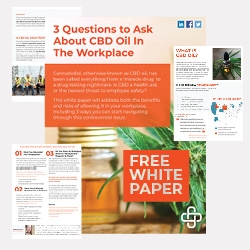 The Woodlands, TX, March 21, 2019 –(PR.com)– Axiom Medical, a leading incident case management and occupational health services provider in North America, announced today the release of its latest white paper, "3 Questions to Ask About CBD Oil in the Workplace."
CBD oil, which comes from the marijuana plant (but doesn't contain psychoactive properties and can't get you "high") has become the new "superfood" of the workplace, offering many health benefits. In 2018, the Farm Bill was signed, making CBD oil legal in all 50 states.
So, where does that leave you, the employer?
In uncharted territory.
CBD oil has become a double-edge sword, acting as a natural pain reliever for the employee, but leaving unanswered questions for the employer, who faces two big issues:
1. How to regulate the use of CBD oil in the workplace?
2. How to manage drug testing programs?
This white paper will address both the benefits and risks of allowing CBD oil in your workplace, including three ways you can start navigating through this controversial issue.
The publication is authored by Heather Jackson, who has been a freelance writer for the past 7 years, specializing in the health and wellness industry. She currently works as a content specialist at Axiom Medical, bringing awareness to employee health issues and industry trends with social media content, blog posts and white papers. To view her latest content on workplace safety and employee health, visit the Axiom blog.
You may download a free copy of "3 Questions to Ask About CBD Oil in the Workplace" through the following URL: https://info.axiomllc.com/3-Questions-To-Ask-About-CBD-Oil-In-The-Workplace.
About Axiom Medical
Founded in 1999 and headquartered in The Woodlands, TX, Axiom is a market leader in the occupational health sector in North America, with unrivaled service quality and a very strong return on investment for clients in the USA, Canada and Mexico. For more information, please visit the company's website at https://www.axiomllc.com.