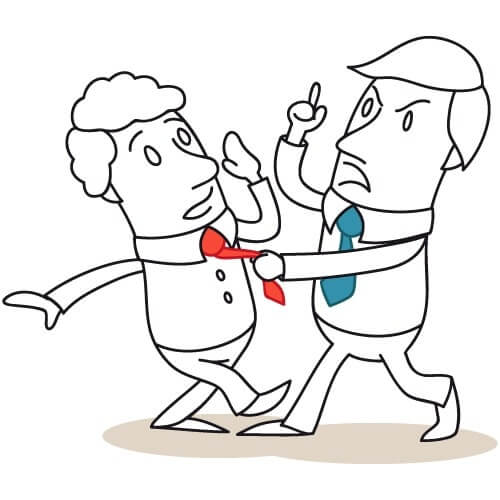 The concept of abrupt mental health instability is generally false. People don't just "lose it" – there are always signs and precipitating events that contribute to these breaks. While most do not consider their place of employment to be a "danger zone", failing to remain aware of the people we see every day can lead to disaster and devastation.
Workplace violence is an act or threat against workers, ranging from verbal abuse to physical assault and homicide. According to the National Institute for Occupational Safety and Health (NIOSH):
Homicide was the second leading cause of death due to workplace injury
75% of all occupational homicides were the result of gun use
Non-fatal workplace assaults resulted in nearly 900,000 lost work days and $16 million annually in lost wages
5 Red Flag Behaviors of Workplace Violence
This is where it gets interesting; typically dangerous employees will not post signs identifying themselves as violent. Instead, they exhibit behaviors which serve as clues to their compromised mental well-being, such as:
Performance deterioration and oversensitivity to feedback/criticism
Obsession with a coworker or employee grievance
Tragic event fascination and recent acquisition of weapons
Dramatic mood swings including belligerent/angry outbursts
Ominous threats of harming self or others
Preventive Practices and Employer Liability Protection
Negligent screening of employment candidates could place you in the "hot seat".
In accordance with OSHA standards and regulations, employers have a responsibility to provide a safe working environment for employees. Identifying potentially violent applicants before hiring is the most effective way to prevent workplace violence. With regard to privacy protections and antidiscrimination laws, employers would defend themselves by showing there were no mentions or indications of violent tendencies in the criminal background checks and reference checks of applicants.
How Axiom Can Help
Axiom handles a variety of Background Screening Programs including:
U.S. Scan – Comprehensive Search of Multiple, National Databases
County Felony and Misdemeanor Search
DOT-Mandated Motor Vehicle Record History Search (MVR)
Employment Verifications
Education Verifications
Federal Pre-Employment Screenings via FMCSA
DOT-Mandated Pre-employment Drug and Safety Checks (PECs)
Professional License Verification
Everyone has a role in preventing workplace violence!

Holly is an ER nurse by trade, but loves content marketing.  She was born outside the box and believes everything is better with "sprinkles and sparkles".  She is passionate about impacting lives and uses marketing as her platform for sharing practical solutions to address real life occupational health challenges.
Find out more about our Injury Case Management services or our Occupational Health Programs.