Vaccine tracking is here!
Axiom Medical is proud to announce the new CheckIn2Work Vaccine Tracking feature designed to easily track and record workforce vaccinations and help with much more. You don't need to be an existing CheckIn2Work user to take advantage of this benefit.
Now available!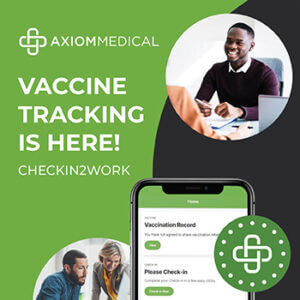 CheckIn2Work Vaccine Tracking will help with:
Record vaccination repository
Reporting
Vaccination validation
Post-vaccination support through our Case Management (adverse reactions after vaccination)
Yearly vaccinations scheduling and tracking, including boosters
Excellent for teams that:
Need to keep track of their employees' vaccination records
Frequently travel
Interact with large populations (Retail, entertainment, healthcare, and similar industries)
Are essential workers
Maintain an OSHA compliant work environment

Benefits of Vaccine Tracking
Our CheckIn2Work with Vaccine Tracking offers several benefits to employers and employees. The feature can be used:
Get ahead of OSHA's COVID protocols

To increase workplace safety and security

To reduce the spread of contagious disease at the workplace
Digital proof reduces fraud
How Does It Work?
To utilize the new features, users simply opt-in to the program and offer the vaccination information themselves via the CheckIn2Work mobile app. Employers can also easily access records of vaccinated team members from this app. Contact us to learn more and to schedule a demo!
Axiom Medical Can Help!
Does your organization need employee vaccination program and COVID-19 Response Program? Axiom Medical can help. With our competent OnSite testing and vaccination program, we can help your organization with workplace COVID-19 needs. Contact us today to learn more!