Workplace musculoskeletal injuries account for about 35% of the productivity loss and days-away-from-work, based on claims submitted by several researchers. Frequent and repetitive activities can cause painful injuries in muscles, tendons, nerves, and even bones.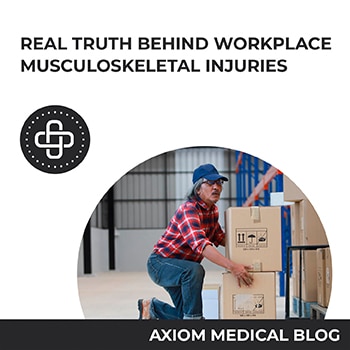 Workplace musculoskeletal injuries are the costliest of all occupational injuries. Thanks to the long-term care requirements, which involve physiotherapists, occupational therapists, chiropractors, mental health professionals, and emergency room visits.
Shockingly, back sprains are no longer the most expensive workplace injury. In fact, the shoulder and rotator cuff injuries have taken up the top spot with $46,000 overall cost per case, which involves emergency room visits, treatment costs involving physical therapists, chiropractors, mental health counselors, and long-term care. In addition, such injuries frequently result in a workers' compensation claim.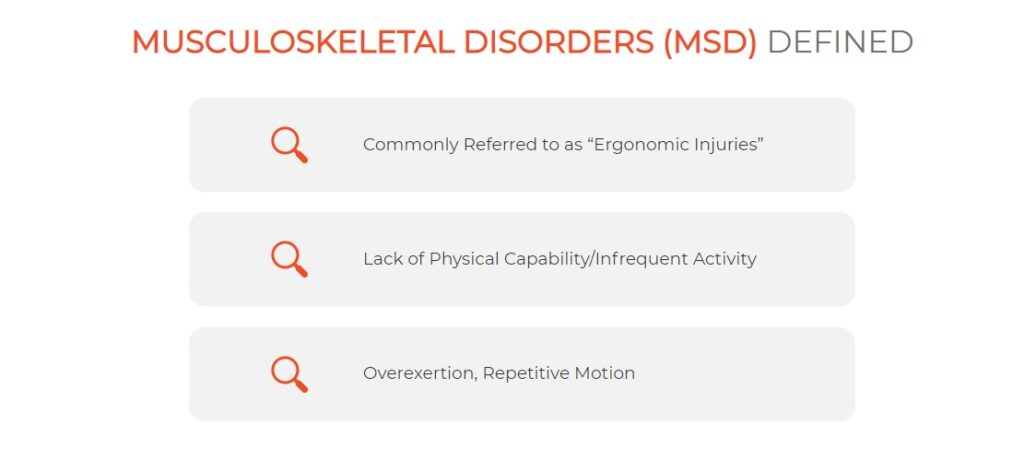 What is The Impact of Work-Related MSDs?
Work-related Musculoskeletal Disorders or MSDs are among the most frequently reported injuries resulting in lost time or restricted work time.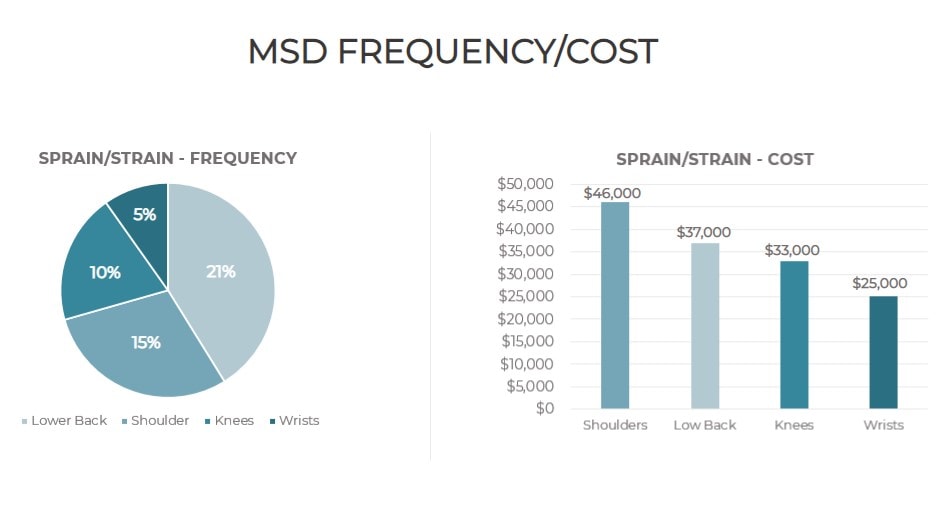 The BLS or Bureau of Labor Statistics reported that out of all worker injury cases reported, 33% of the injury and illness cases were due to MSD. Frequent and repetitive tasks, awkward postures, and overexertion are the primary reasons for such workplace injuries.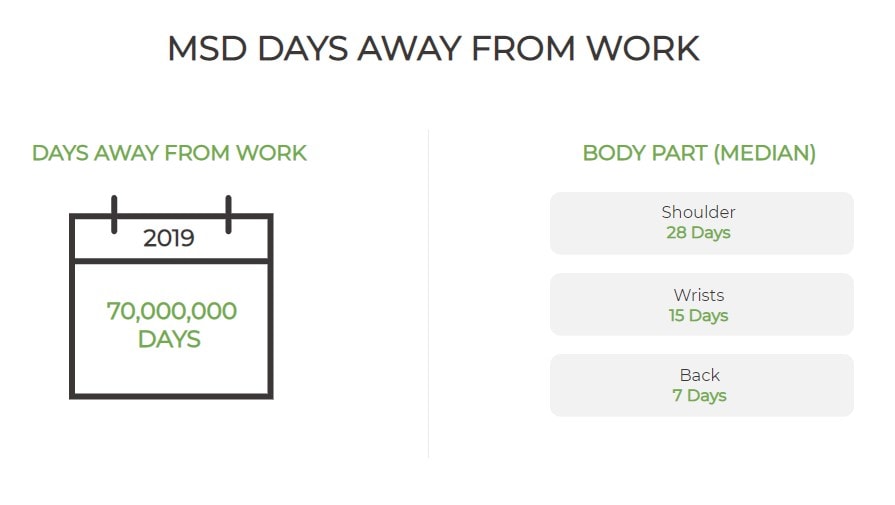 Occupational Shoulder Disorder:
The term OSD or occupational shoulder disorder is a type of musculoskeletal injury referring to symptoms characterized by shoulder girdle pain. The most common workplace shoulder injury is a sprain, including the paracervical, parascapular, and glenohumeral musculature around the shoulders. Some of the severe cases involve girdle injury, rotator cuff problem, and frozen shoulder. Most OSDs cause pain that radiates into the upper back and arm region. OSDs in the workplace are thought to be the result of cumulative trauma caused by or due to specific activities including heavy lifting, repetitive tasks, and awkward posture.

Who Is At Risk?
Musculoskeletal injuries are often reported by workers who perform tasks with:
Heavy physical work
Lifting and repetitive, labor-intensive work
Vibration caused due to hand tools
Exposure to extreme temperature (low and high)
Worker populations at the highest risk are:
Individuals with obesity
Those above the age of 60
Those with physical conditions and comorbidity
How Can Employers Help?
Hazards are best eliminated when identified by source. This is a fundamental principle of occupational health and safety. In work-related musculoskeletal disorders (WMSDs), the prime source of hazard is workplace risks and the repetitiveness of work. Therefore, employers must protect workers from WMSDs by implementing workplace risk mitigation procedures, pre-hire tests including functional capacity exams (FCE), and educating employees to understand the complexity of job duties and how to avoid injuries.
Workplace Risk Mitigation:
A well-managed workplace can decrease risks and reduce workplace injuries. Employers can work closely with their employees to educate them on avoiding repetitive patterns of work through job rotation. Periodic job rotation may include mechanization, temporary change in job duties, and teamwork. If eliminating repetitive work patterns is not possible, employers must implement prevention strategies to create a safe workplace and introduce work practices.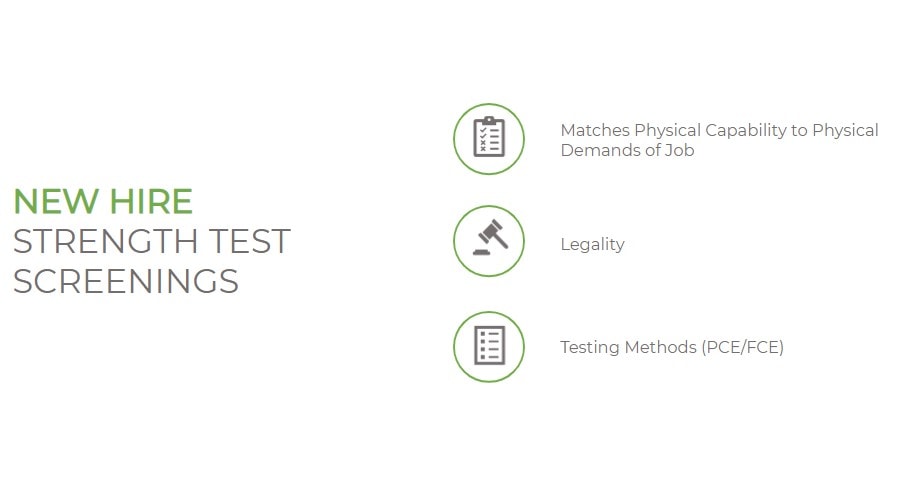 New-Hire Strength Test
A new-hire strength test is designed to help employers during the hiring process. The test ensures that employers find employees who can perform physically demanding tasks while avoiding soft tissue injuries to the shoulder, back, and knee. As a part of the test, FCE or Functional Capacity Evaluation is also performed.
Axiom Medical is Here To Help!
Does your organization need an occupational healthcare program and workplace injury case management to deal with occupational injuries? Axiom Medical can help. With our employee total health program, we can help your organization with workplace healthcare needs. Contact us today to learn more!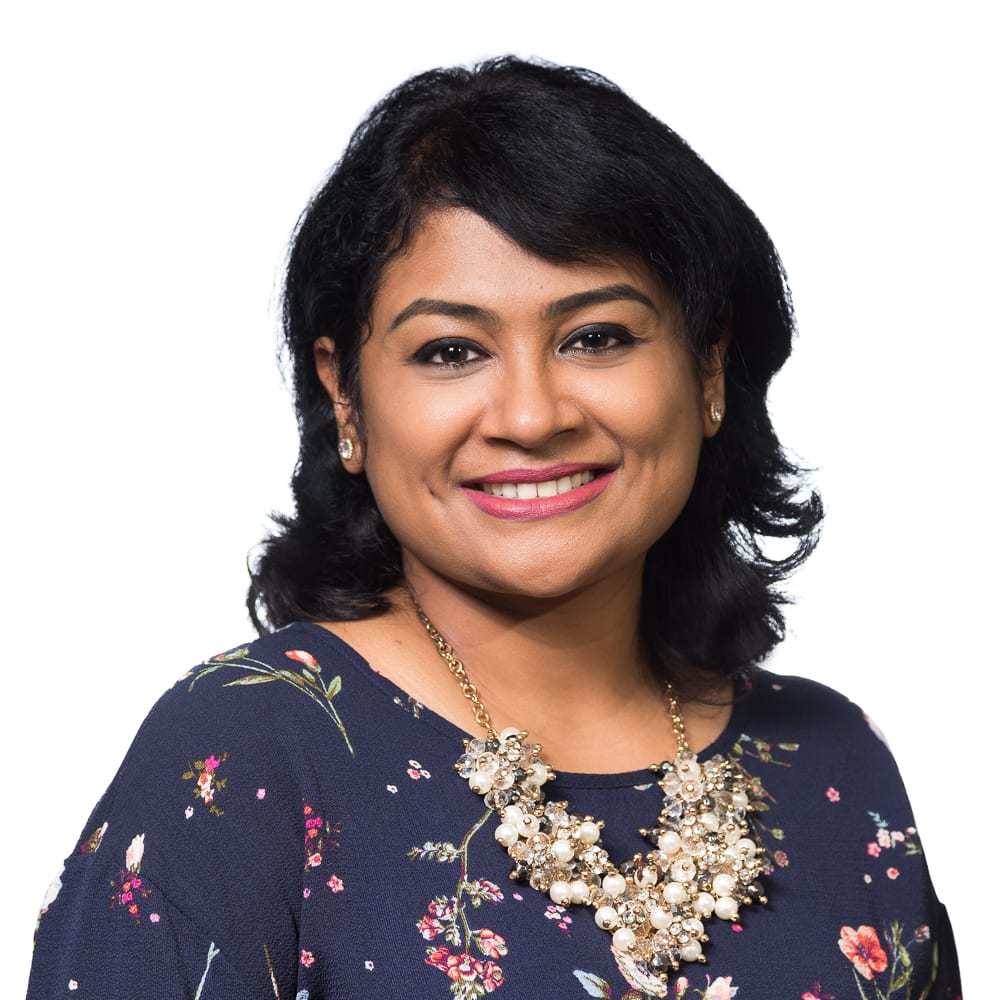 With a career focused on digital marketing, Chitra is a specialized SEO-Content marketer. After moving from biotechnology to business operations and marketing, Chitra started her digital marketing career as a freelance content developer and technical writer. With Axiom, as a content marketing & SEO specialist, she is passionate about creating informative marketing copies for optimum search engine performance.
Find out more about our Tempo Live Behavioral Health and  Injury Case Management services.