Axiom Medical's CheckIn2Work update R1 now features the People Tile! You have the tools to take control!
Axiom Medical Client Portal Update:
Here is how the new Client Portal update looks like.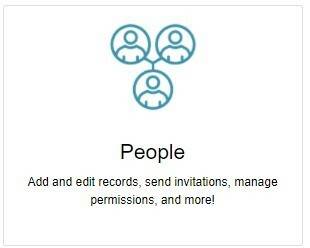 Meet the "People Tile" in the Axiom Medical Client Portal (ACP). You have the ability to add and edit records, send welcome invitations to new users, manage permissions and so much more!
1. Select whether you want to create a new employee or guest from the blue pull-down, located in the top right corner of the People Tile.

2. Enter the user's demographic information.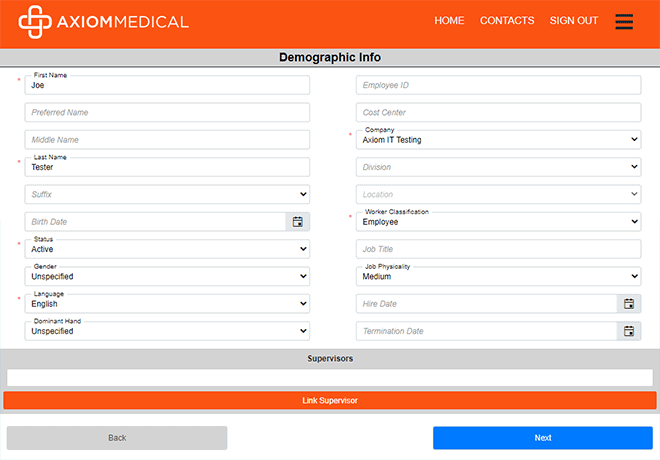 3. Update, change or add permissions to a user's profile.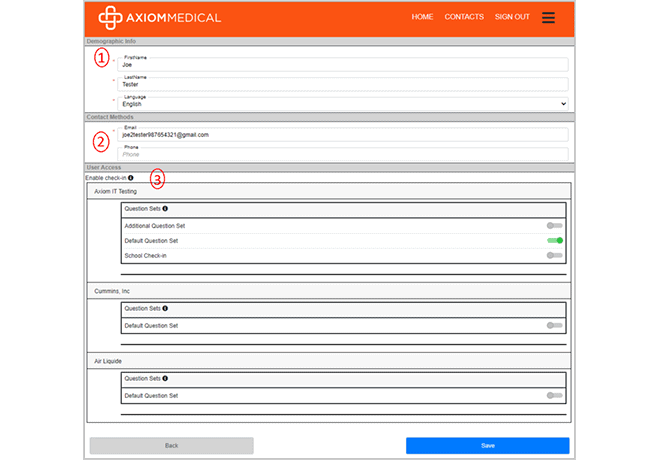 For example, does the new employee need access to:
CheckIn2Work
"Check-in" Question Sets
Agent Mode
People Tile in the Axiom Client Portal
4. Permissions can be modified in the People Tile. Simply toggle to the "green" next to each permission.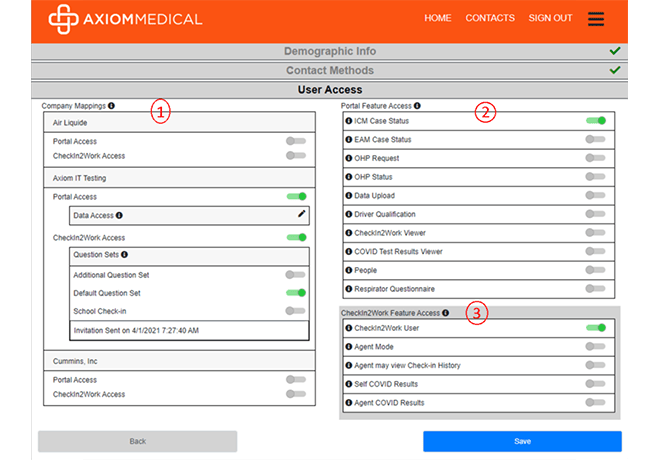 Congratulations – you did it! You've just created a new employee user and given them access to CheckIn2Work, "Check-In" Question Set, Agent Mode, and the People Tile in the Axiom Client Portal.
All options are available at your fingertips for total control via the Axiom Client Portal!
Have a question or wondering if the new programs and features would suit your employee health needs? Please reach out to me, personally, and I am happy to guide you through the easy-to-navigate technology improving the health and safety of organizations worldwide!
Axiom Medical also offers nurse case management for all illnesses and injuries on the job (In addition to the COVID-related services). As a part of our OnSite Vaccine Program, we offer COVID-19 Testing, vaccine administering at the workplace, health and safety supervisors, background checks, drug testing, FMLA/Disability/Maternity Leave management, and many other employee health management services.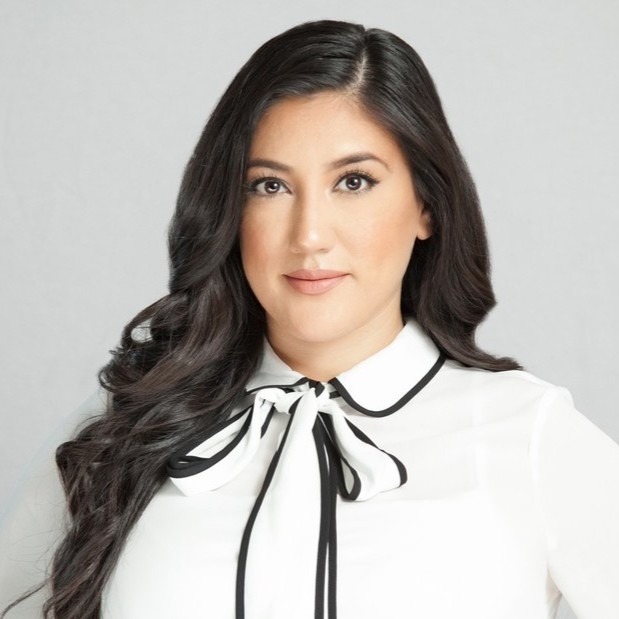 A whopping 12 years in sales working in industries like fintech for NASDAQ, SaaS, tech startups, education, architecture and engineering, the hotel industry, advertising and ecommerce, Irene has sold nearly every product you can possibly imagine. After a successful career in sales, she decided she wanted to take part in building the product she was selling. With her experience working at NASDAQ in their SaaS board and leadership department, she started working with Axiom to help build SaaS enabled resources that meet customer needs, exceed customer expectations and help the sales team sell with confidence. Her favorite quote is "Our deepest fear is not that we are inadequate. Our deepest fear is that we are powerful beyond measure". Beyond a passion for product management, Irene loves sand volleyball and plays in leagues and tournaments, cooking every cuisine you can imagine and snuggling up to a good book about either sci-fi, mystery, entrepreneurs or business strategy.
Find out more about our Injury Case Management services or our Occupational Health Programs.