Axiom Medical, a leader in total employee healthcare solutions and innovator of the COVID-19 screening CheckIn2Work app, has successfully expanded its reach to Hollywood with a new office in LA, California, to serve clients in Burbank and its surrounding suburbs. Axiom Medical has assisted many clients in the TV and film industry with filming and production during this ongoing coronavirus pandemic. To serve our existing film-production and other Californian clients, Axiom Medical opened a new office in Burbank, CA in January 2021.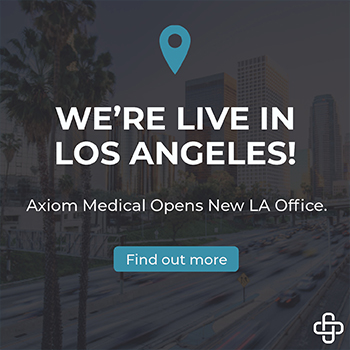 Axiom Medical's new office will be equipped to fulfill all onsite testing and other occupational health services.
In response to the COVID-19 pandemic, Axiom Medical has introduced a specialized workplace COVID-19 testing and Screening service to help businesses quickly screen, test, and manage employees exhibiting symptoms of COVID-19 or any respiratory illness. As a part of our COVID-19 Prevention Program, we offer COVID-19 Testing with Onsite Testing and At-home Test kits, Contagious Respiratory Illness Assessment, and CheckIn2Work Daily Employee Screening.
Our program highlights include:
Program administration managed by Axiom Medical professionals
Onsite, self-administered, or at-home kits available from renowned nationally accredited laboratories
Seamless integration with Axiom services, including Contagious Respiratory Illness Assessment (CRIA) program
Employee/employer notifications
Contact tracing
Mobile Labs: Axiom Medical Mobile labs offer onsite COVID-19 testing and staffing support for employers looking for health and safety supervisors and COVID compliance officers for onsite testing.
Self-Administered At-Home Testing: Axiom Medical's self-administered RT PCR saliva test will ensure that your employees have access to hassle-free COVID-19 testing at home. Our at-home tests guarantee next day results.
Are you interested to learn more? Click the below button to contact us!
With a career focused on digital marketing, Chitra is a specialized SEO-Content marketer. After moving from biotechnology to business operations and marketing, Chitra started her digital marketing career as a freelance content developer and technical writer. With Axiom, as a content marketing & SEO specialist, she is passionate about creating informative marketing copies for optimum search engine performance.
Find out more about our Tempo Live Behavioral Health and  Injury Case Management services.