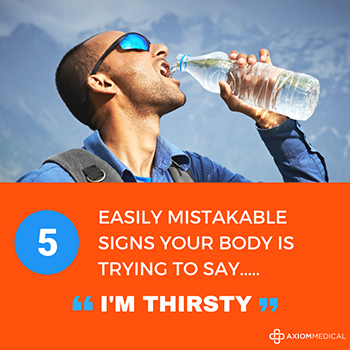 Your body will always send a message it's dehydrated, but will you pick up on the signs?
When it comes to working outdoors in the heat, dehydration can sneak up on you, and if you've got employees exposed to the heat all day long, their rate of dehydration can quickly turn deadly.
Here's five instrumental dehydration signals your body may be giving that can easily be mistaken.
Irritability
Did you know neurological effects of dehydration can cause you to be cranky?  The Journal of Nutrition published a study in which the mood and concentration were studied in women.
Those who were less than 1% dehydrated reported headaches, loss of focus, and irritability.
Bad Breath
If you find people taking a step back when you approach, you may want to question the freshness of your breath!  Wonder why?  The decreased amount of saliva produces a breeding ground for bacteria.  Should you find yourself in that position, remember to reach for fluids instead of just a mint.

Feeling Tired
Yes, it is human nature to blame our sluggish feeling on a lack of sleep, but surprisingly, it could also be a sign of needing fluids.
Dehydration causes a lack of blow flow to the brain, increases in our heart rate and decrease of blood pressure.
Muscle Cramping
Feeling cramps or spasms in your muscles?  You may not have enough fluids in your circulatory system.
Hunger
Ever feel like you're hungry, but shouldn't be?  That should be your cue that it may not be food you need.  Instead, reach for fluids.
Not only will you feel more satisfied, your waistline will thank you!
How Do You Manage Heat Related Injuries?
Did you know that over 65% of cases called into Axiom's 24/7 injury hotline can be managed internally without a clinic or ER visit needed?
Monitoring heat related injuries allows you to manage them effectively with a occupational health service that will allow you to keep injuries down….and your employee's health up!
Partnering with Axiom means your employees will have immediate access to a licensed medical professional 24/7/365 from any location!  Once the case is called in by your employee or their supervisor, you will receive detailed reporting and continuous status updates throughout your employee's recovery.
In other words, wherever your employees go, Axiom goes with them!
Give us a call at 281.465.7100 to find out just how easy life becomes with Axiom Incident Case Management!

Holly is an ER nurse by trade, but loves content marketing.  She was born outside the box and believes everything is better with "sprinkles and sparkles".  She is passionate about impacting lives and uses marketing as her platform for sharing practical solutions to address real life occupational health challenges.
Find out more about our Injury Case Management services or our Occupational Health Programs.