CHECKIN2SCHOOL APP FROM AXIOM MEDICAL
Axiom Medical is redefining the successful reentry to education process with our FREE CheckIn2School App!
CheckIn2School delivers a quick and easy daily attestation for school administrators needing to pre-screen students for potentially infectious or contagious conditions before arriving to school each day. With real-time reporting, school leaders now have a comprehensive solution for risk mitigation and protection of students, faculty, and the community.
QUICK, EASY 3 STEP PROCESS
Daily login by student, parent, or faculty member
Self-service attestation of health status
Referral to designed school contact or personal medical doctor
CHECKIN2SCHOOL
BENEFITS
24/7 mobile self-service illness/exposure screening
Multiple languages
Real-time reporting
Risk mitigation
PRESS RELEASE: TOMBALL ISD PARTNERS WITH AXIOM MEDICAL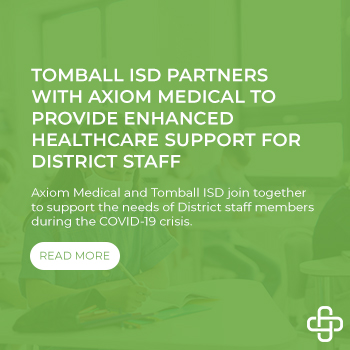 Axiom Medical and Tomball ISD join together to support the needs of District staff members during the COVID-19 crisis.
TOMBALL — Tomball ISD has announced it will partner with Axiom Medical, a leading occupational health services and incident case management provider, to help support district staff during the COVID-19 crisis. Many safety protocols and guidelines have already been put in place to help ensure the health and safety of Tomball ISD employees at all of its facilities for the 2020-2021 school year but partnering with Axiom Medical will add an extra layer of support during these uncertain times. "Tomball ISD is excited about our new relationship with Axiom Medical," says…
Read Tomball ISD Partners with Axiom Medical to Provide Enhanced Healthcare Support for District Staff
WATCH OUR LIVE COVID-19 VIDEO PLAYLIST BELOW
ON DEMAND COVID-19 WEBINARS