TESTING VAULT
Track, upload, and manage your employees' test results securely with Axiom Medical's Testing Vault.
Get Started Today!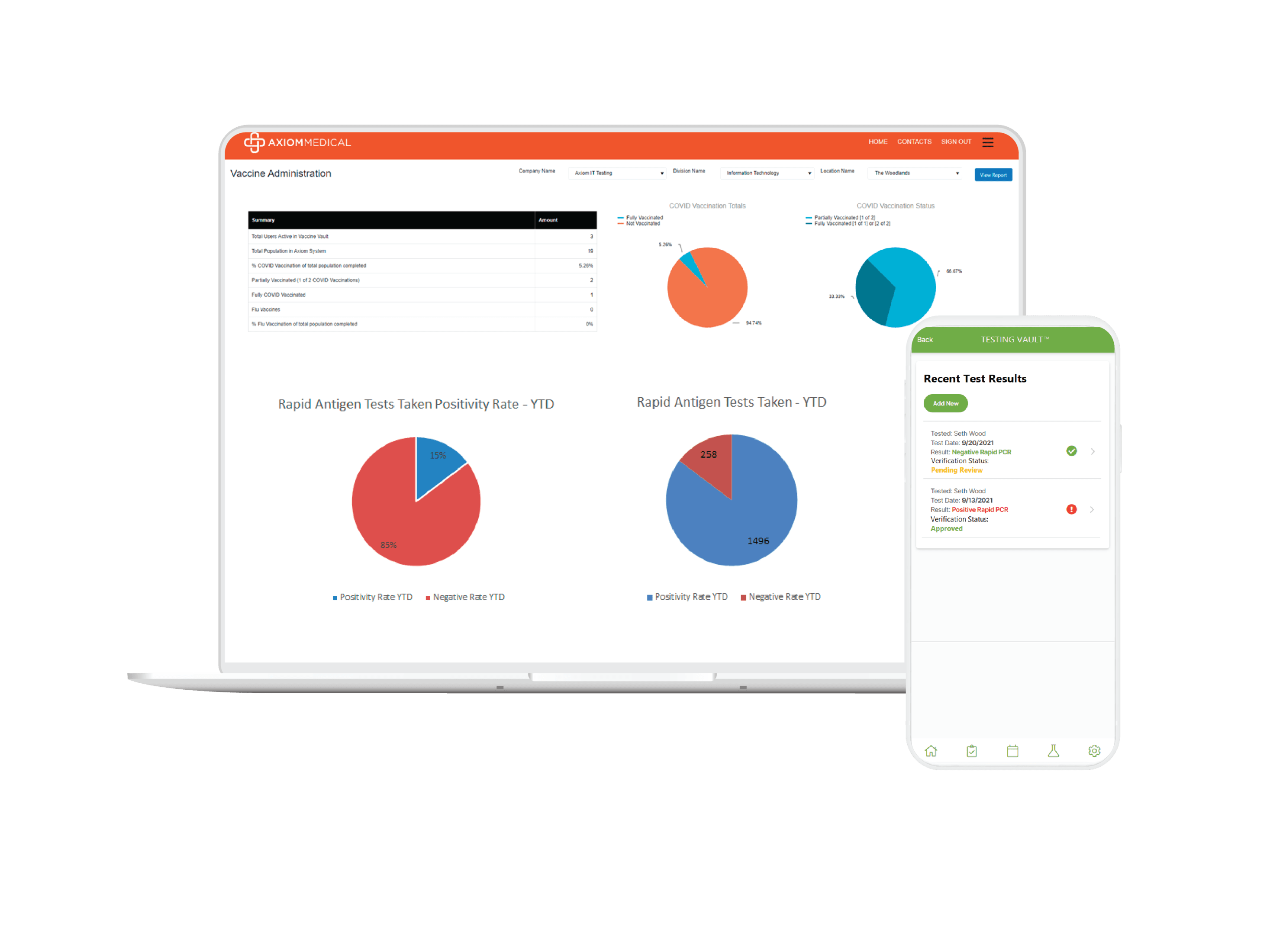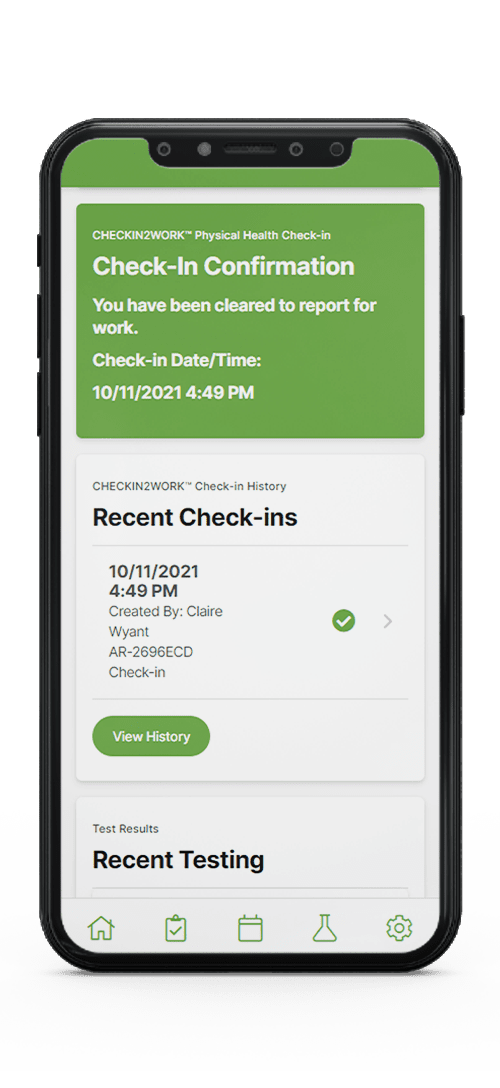 What is Testing Vault?
Axiom Medical now offers Testing Vault, an additional feature within our CheckIn2Work app, designed to track and manage your employees' test results.
The easy-to-navigate testing vault dashboard shows exactly when your employees took a COVID-19 test, their pending or final results, and any scheduled tests.
The vault offers a HIPAA compliant platform for your employees to securely upload their test results by an outside vendor.
Employers can also access all the data from the Axiom Client Portal, offering more details on employees' records: pending, completed, and positive test results, as well as approval status and case history.
Protect Your Workforce In 6 Steps
With Axiom Medical's safe and secure Employee Healthcare Solutions, keep your workforce healthy!
STEP 1: Risk assessment
STEP 2: Infection control policy implementation and compliance
STEP 3: Health attestation
STEP 4: Vaccine tracking and test results
STEP 5: Contagious illness assessment and contact tracing
STEP 6: Return to work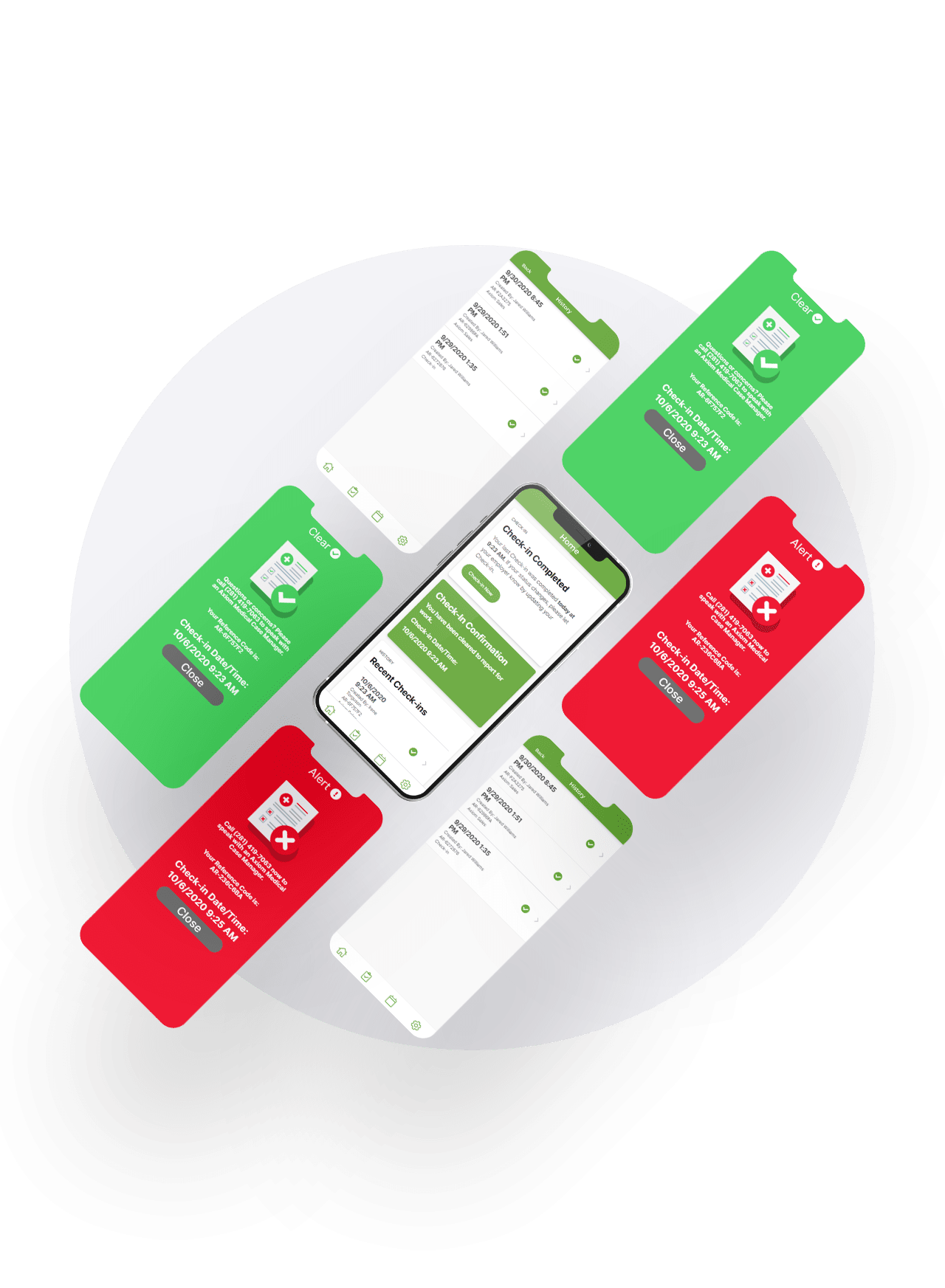 How Can Axiom Medical Help You with Exposure Tracking & Contact Tracing?
Let your employees return to work with confidence with Axiom Medical's support and population health expertise. Our Contagious Illness Case Management program includes exposure tracking and contact tracing, all available through CheckIn2Work mobile and web application. Each reported positive test result at the workplace requires appropriate actions, including risk assessments and contact tracing. Our team creates a case for each reported positive test result and works closely with the employees and employers to securely track and report the level of actual COVID-19 exposure at the workplace. In addition, our team develops an infection control policy to help clients implement a workplace risk mitigation program with cleaning and disinfection activities, policy implementation, and compliance protocols.
How to Use Testing Vault?
Testing Vault is a feature in the CheckIn2Work app. Employees with our CheckIn2Work screening app account can use Testing Vault to upload their test results.
Is Testing Vault ADA/HIPAA compliant?
Yes, Axiom Medical's Testing Vault is ADA/HIPAA compliant. The app offers a secure platform to upload all your testing data.
What is Axiom Medical Contagious Illness Case Management??
To help employers prevent workplace illness outbreaks, Axiom Medical offers a full suite of Contagious Illness Case Management, featuring CheckIn2Work, Vaccine and Testing Vault, Contagious Illness Data management with contact tracing, and Infection Control policy with HR and implementation support.