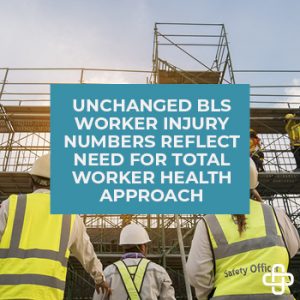 The Department of Labor's Bureau of Labor Statistics (BLS) has announced the number and rate of workplace injuries in 2018 have remained unchanged from 2017.
There were 2.8 million nonfatal occupational injuries and illnesses reported by private industry employers.
The incidence rate for total recordable cases (TRCs) in private industry—2.8 per 100 full-time workers—also remained unchanged from the previous year.
This is the first year since 2012 that the TRC rate did not decline. The incidence rates for days away from work (DAFW) cases and for days of job transfer and restriction only (DJTR) cases also did not change from 2017.
The data released are estimates from the BLS's Survey of Occupational Injuries and Illnesses (SOII).
Survey of Occupational Injuries and Illnesses
Highlights from the newly released SOII data include:
Retail trade was the only private industry sector in which the TRC rate increased in 2018, rising from 3.3 cases to 3.5 cases per 100 full-time equivalent (FTE) workers—the first increase in the TRC rate in retail trade since 2003. The retail trade accounted for 14 percent of all injuries and illnesses in private industry in 2018.
There were 900,380 injuries or illnesses that caused workers to miss at least 1 day of work in 2018, essentially unchanged from 2017.
A total of 333,830 DAFW cases resulted in a visit to a medical facility such as an emergency room (ER) or inpatient hospital.
This is the first year the BLS released estimates for medical treatment facility visits for nonfatal occupational injuries and illnesses requiring DAFW. Medical treatment facilities, based on definitions from the Occupational Safety and Health Administration (OSHA), include facilities designated as an emergency room or an in-patient hospital facility. Urgent care facilities, health units (within an establishment), infirmaries, and clinics are not considered an emergency room. The SOII categorizes medical treatment facility visits in the following way:
Any medical treatment facility visit (emergency room visit and/or in-patient hospitalization)
Emergency room visits only (excluding in-patient hospitalizations)
All in-patient hospitalizations (with or without emergency room visits)
Of the 333,830 DAFW cases requiring a visit to a medical facility:
294,750 required a trip to the ER but did not require hospitalization;
39,080 cases required inpatient hospitalization, either with or without an ER visit;
The median number of days away from work for all private industry cases in 2018 was 8 days;
The median number of days away from work for ER-only visits was 7; and
The median number for inpatient hospitalization was 41 days.
Total Worker Health Approach
The American Society of Safety Professionals (ASSP) called the absence of a reduction in the incidence rate "unacceptable" and encouraged private sector employers to take steps to better protect their workers from injury and illness.
"Stagnant injury rates are unacceptable and a clear call to employers nationwide to take a harder look at their approach to workplace safety and health," ASSP President Diana Stegall said in a statement.
The Association also called on employers to take a broader view of worker well-being, moving beyond traditional wellness initiatives and embracing initiatives like the Total Worker Health approach developed by the National Institute for Occupational Safety and Health (NIOSH).
"There are widespread benefits when a business makes occupational safety and health a priority," Stegall said. "Not only do workers return home safe to their loved ones, but quality and productivity flourish, helping organizations achieve sustainable growth, meet social responsibilities and be viewed as employers of choice."

Holly is an ER nurse by trade, but loves content marketing.  She was born outside the box and believes everything is better with "sprinkles and sparkles".  She is passionate about impacting lives and uses marketing as her platform for sharing practical solutions to address real life occupational health challenges.
Find out more about our Injury Case Management services or our Occupational Health Programs.