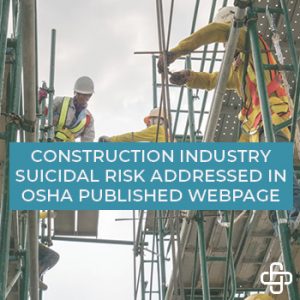 The U.S. Department of Labor's Occupational Safety and Health Administration (OSHA) has published a new webpage that provides various resources for workers on suicide prevention.
Resources on the OSHA webpage include contact information for the National Suicide Prevention Lifeline, as well as information from the Center for Construction Research and Training, the Construction Industry Alliance for Suicide Prevention, the U.S. Department of Veterans Affairs and more.
According to OSHA, suicide is a serious public health concern that can have lasting harmful effects on:
Individuals
Families
Workplaces
Communities.
Additionally, men in the construction and extraction industry had the highest rate of suicide among all occupational groups in the U.S. in 2015, according to the U.S. Center for Disease Control and Prevention.  Thirty-eight percent of construction workers in the U.S. in 2018 were between ages 45 and 64. Coinciding with this statistic is the fact that in 2017, the highest suicide rate in the U.S. was among males between ages 45 and 54, according to the American Foundation for Suicide Prevention.
With all of this in mind, what can safety professionals, supervisors and employers do to help prevent suicide and get workers the resources and assistance they need?
Start Conversations
A major roadblock to addressing this issue in the construction industry and elsewhere is the stigma that has surrounded the issues of depression and suicide and the reluctance to talk about it. For many years, these have been taboo subjects, making it all the more difficult for those who may be contemplating suicide to get the help they need.
One of the most effective ways to do this is to simply talk to workers about what is going on in their lives so that they feel they have an outlet to discuss issues they are experiencing.
When having a conversation with a colleague about personal difficulties, keep these three key point in mind to work toward a positive result.
Listen.  Be a good listener to your colleagues. Often, all a co-worker may need is for someone to listen and understand what they are going through. In many cases, in the process of talking through the problems they are facing, they may be able to find a solution. The QPR Institute, SafeTalk, and Construction Working Minds offer guidance on training personnel on what to look for in someone who may be at risk for suicide and how to start a conversation.
Ask direct questions. Difficult as it may be, it's important to be direct about the topic of suicide and to approach it in a way that is compassionate and empowering, to let the person know that someone is there for them to provide the partnership and support throughout their struggle.
Direct them to qualified resources. Once you've started the conversation and brought underlying issues to the surface, the important next step is to put the person in touch with the appropriate resources. Organizations such as the National Suicide Prevention Lifeline, Construction Working Minds, and the Substance Abuse and Mental Health Services Administration provide tools and treatment resources for those in need of assistance.

Holly is an ER nurse by trade, but loves content marketing.  She was born outside the box and believes everything is better with "sprinkles and sparkles".  She is passionate about impacting lives and uses marketing as her platform for sharing practical solutions to address real life occupational health challenges.
Find out more about our Injury Case Management services or our Occupational Health Programs.