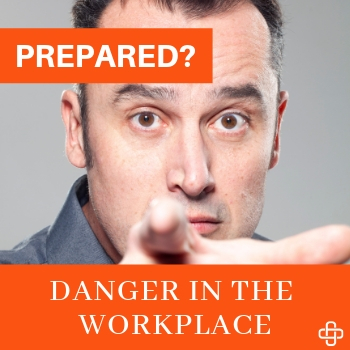 Every year, two million American workers report having been a victim of workplace violence.
What would YOU do if you experienced violence at work?
Would you know how to be proactive with a strategy in place, or would you react with impulsive behavior?
The unfortunate truth is, workplace violence occurs in every industry.
No one is safe from the risk.
The good news?
By creating a plan of action, you're proactively protecting your workforce from danger! This article addresses exactly how you can do that.
What Industry Is Most At Risk?
The National Safety Council Injury Facts lists data for workplace violence-related deaths, and injuries resulting in days off of work, across various occupations.
Here are some of the published stats:
Government: 37,110 injuries, 128 deaths
Education and health services: 22,590 injuries, 35 deaths
Professional and Business Services: 4,460 injuries, 65 deaths
Retail: 2,680 injuries, 127 deaths
Leisure and hospitality: 2,380 injuries, 107 deaths
Financial activities: 1,100 injuries, 37 deaths
Transportation and warehousing: 840 injuries, 71 deaths
Construction: 680 injuries, 36 deaths
Manufacturing: 570 injuries, 36 deaths
Consider these tips to take a proactive approach to protecting the workplace from danger:
Don't Be in Denial
"That would never happen at my workplace," right?  Wrong!
Many employers (and employees) believe that bad things will not happen in a place of business.  Danger doesn't discriminate – it can happen to businesses big or small, regardless of geographical location and time of the day or night!
Seek Help from an Expert
Nobody expects you to have all the answers when it comes to security.  However, law enforcement officials and even private corporations specialize in this area and can help you find what methods would be most effective for your particular business.
Plan and Practice
Develop a plan so that every employee knows exactly what to do in a crisis situation.  Once the plan is developed, schedule drills at least every six months so every employee can practice what their specific role is in the plan and can execute it efficiently.
Want to Take a Proactive Approach to Keeping Employees Safe and Healthy?
Axiom Medical views employee health as a journey from pre-hire to post-separation.
Our occupational health programs help ensure a healthy workforce that is capable of performing all tasks expected of each employee.
Should an incident occur, we have you covered with OSHA trained Nurse Case Managers, 24/7.
Our incident and injury case management services are designed to keep your employees safe, happy and healthy to your business productive!
Give us a call at(877) 502-9466 or fill out our contact form to find out just how easy an effective occupational health program can be!

Holly is an ER nurse by trade, but loves content marketing.  She was born outside the box and believes everything is better with "sprinkles and sparkles".  She is passionate about impacting lives and uses marketing as her platform for sharing practical solutions to address real life occupational health challenges.
Find out more about our Injury Case Management services or our Occupational Health Programs.